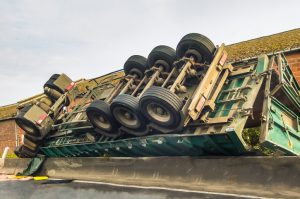 When an automobile collides with a commercial truck, the consequences are almost always catastrophic. Under state and federal regulations, most 18-wheelers and big rigs can have a total payload of as much as 80,000 pounds. Here are some of the most frequent causes of large truck accidents:
Driver fatigue—Most commercial truckers are paid based on the number of miles traveled—the incentive, then, is to spend more time on the road. While there are federal regulations requiring drivers to keep logs of their time behind the wheel, and mandating periodic breaks, the rules get flaunted and the logs get falsified.
Faulty maintenance—Drivers are also required to perform regular maintenance and to keep maintenance logs. Again, because of the time and expense involved, too many drivers neglect necessary maintenance or fabricate maintenance logs.
Distracted driving—Whether it's a handheld device, the stereo or a roadside diversion, it only takes a second to create a dangerous situation
Driving under the influence—Some drivers use stimulants to help them stay alert…others drive while under the influence of alcohol or drugs.
Violation of traffic laws—Excessive speed, improper lane changing, or failure to use due caution.
Effective Baltimore, Maryland Personal Injury Attorney
Attorney Jonathan Scott Smith, a Maryland Super Lawyer, has protected the rights of personal injury victims in Maryland for over three decades, including individuals who have been hurt in truck accidents. Because of his proven record of obtaining positive results, Attorney Smith has received the Client's Choice Award from AVVO, with an average client review of 5 stars (the highest rating possible). AVVO has given him a perfect 10.0 Superb rating as a litigator and he's also earned an AV-rating under Martindale-Hubbell's Peer Review Rating System. He's a Maryland Super Lawyer and was also recognized as a 2012 Top-Rated Lawyer by The American Lawyer Magazine.
Proven Ellicott City Personal Injury Lawyer
If you have been hurt because of someone else's wrongful conduct, let us help. Contact our office by e-mail or call us at (410) 441-5054 to schedule an appointment. There's no cost for your first consultation. We represent injured people in Howard County, Baltimore County, Carroll County, Frederick County, Prince Georges County and Montgomery County in Maryland.