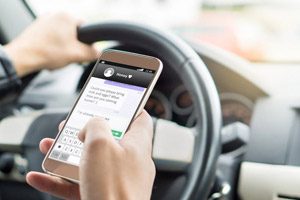 According to the National Highway Traffic Safety Administration, more and more motorists are involved in more and more accidents every year because they are distracted while behind the wheel. One of the most common culprits is a handheld device..statistics show that up to half of all drivers admit to sending or reading text messages while driving. The U.S. Department of Transportation estimates that cell phones alone play a part in about 1.6 million motor vehicle accident every year.
Experts say the distractions take three forms:
visual distractions, which take your eyes off the road
manual distractions, which take your hands off the wheel
cognitive distractions, which take your mental focus off the task at hand—driving
Handheld devices, such as cell phones and tablets, are among the most dangerous distractions, say authorities, because they typically involve some level of all three distractions.
Results-Oriented Columbia, Maryland Personal Injury Attorney
Attorney Jonathan Scott Smith, a Maryland Super Lawyer, has successfully represented personal injury victims in Maryland for over 30 years, including individuals who have been hurt in a motor vehicle accident. Because of his outstanding record and strong reputation for effective representation, Attorney Smith has been honored with the Client's Choice Award from AVVO, based on an average client review of 5 stars (the highest rating possible). He has a perfect 10.0 Superb rating as a litigation attorney from AVVO, and is also highly regarded by his colleagues in the legal profession, earning an AV-rating under Martindale-Hubbell's Peer Review Rating System, the highest rating possible. Attorney Smith was also recognized as a 2012 Top-Rated Lawyer by The American Lawyer Magazine and Martindale-Hubbell.
Baltimore, Maryland, Automobile Accident Lawyer
If you have been hurt because of the wrongful act of another person, we can help. Contact us by e-mail or call us at (410) 441-5054 to schedule an appointment. There's no cost for your first consultation. We represent injured people in Howard County, Baltimore County, Carroll County, Frederick County, Prince Georges County and Montgomery County in Maryland.