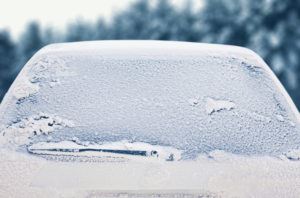 A lot of people do it in the winter in Baltimore and across Maryland—there's a little snow or accumulation of ice on your windshield, maybe the windows are frosted up, but you're in a hurry… running late. So you head out on the roads with snow on the hood or windshield, or peering through a small section of window that you've scraped clean. What happens if you cause an accident because you can't see another motorist?
There is no law in Maryland requiring that you take the time to clean snow or ice from your vehicle or ensure that your windows are fully defrosted. But that only means you won't face criminal charges or get a traffic citation if you cause an accident. In a civil lawsuit based on the accident, the injured party may have little difficulty showing that your failure to clean the car was negligent. The standard for determining negligence is what a reasonable person would do. If a reasonable person would have cleaned snow and ice off the car, you can be held liable for failing to do so.
Results-oriented Anne Arundel County, Maryland, Personal Injury Attorney
Jonathan Scott Smith, a Maryland Super Lawyer, has protected the rights of personal injury victims in and around the greater Baltimore area for more than 30 years. He is a skilled and experienced litigator with the proven ability to obtain positive results at trial.
As a testament to his reputation for successful advocacy, attorney Smith has received the Client's Choice Award from AVVO, with an average client review of 5 stars (the highest rating possible). AVVO also has awarded him a perfect 10.0 (Superb) rating as a litigator, and he is AV-rated by his colleagues in the legal profession under Martindale-Hubbell's Peer Review Rating System. He's a Maryland Super Lawyer and also was recognized as a 2012 Top-Rated Lawyer by The American Lawyer magazine.
Effective Baltimore, MD Personal Injury Attorney
If you have been hurt because of the wrongful act of another person, we can help. Contact our office by e-mail or call us at (410) 441-5054 to schedule an appointment. There's no cost for your first consultation. We represent injured people in Howard County, Baltimore County, Carroll County, Frederick County, Prince George's County, and Montgomery County in Maryland.