Maryland Car Accidents and Car Crash Fatalities: Give Them Good Driving Advice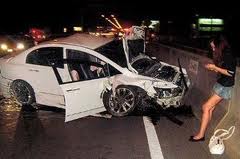 While there has been a general downward trend in the number of car accident fatalities in Maryland and elsewhere across the country, preliminary numbers from the Governors Highway Safety Association in Washington D.C., indicate the trend is being bucked by 16 and 17-year-old drivers. If the statistics bear out, this will mark the first time in five years that fatalities have increased.
There is some speculation that the cause of the rise of these teenage car fatalities is due to an improvement in the economy, where high gas prices and unemployment limited the driving of many teens. Others speculate that cell phones and texting are partially responsible for many teenage fatalities.
What Advice Can You Give Maryland Teenage Drivers to Help Them Avoid Accidents and Death?
Make sure they understand the rules of the road. This is important and can help them avoid an auto accident because of committing a traffic violation.
Teach them defensive driving. Being right doesn't mean they won't get hurt in a traffic accident caused by someone else.
Teach them to turn their cell phones off when driving. The temptation is too great to look at a text, or see who is calling when the phone rings.
Make sure they either have cab fare or someone they can call if they are too tired to drive. Driving tired, falling asleep at the wheel or not paying attention due to fatigue can all lead to a fatal car crash.
Let them practice driving when they are with you. The more they practice, the better drivers they will become.
If your teenage son or daughter was involved in a car accident or auto wreck fatality in the Baltimore, Maryland area, including the Baltimore Beltway (I-695), the B-W Parkway or one of the interstate highways (such as I-95, I-70), or major local roads such as Route 29 and Route 40, please contact an experienced Maryland personal injury attorney to ensure they and your family receive the advice, representation and counsel needed to make informed decisions.
Contact Our Office
To schedule an appointment, contact us online or call us now at (410) 441-5054. Let us use our skill, experience, knowledge, and resources to help you get full and fair compensation for your car accident injuries.
Attorney Jonathan Scott Smith represents clients in wrongful death cases and personal injury cases involving bodily injuries in auto accidents, truck wrecks, drunk driving wrecks, and motorcycle wrecks on the Baltimore Beltway, Washington Beltway, MD 295, Baltimore Washington Parkway, B-W Parkway, I-695, I-495, Interstate 95 in Maryland, I-70, Maryland Route 32, U.S. Route 29, Baltimore National Pike, Route 40, I-83 and serious injury accidents throughout Maryland.
Ellicott City Car Wreck Attorney
Lawyer Smith also provides experienced legal representation for clients in Baltimore, Columbia, MD, Clarksville, Sykesville, Fulton, Elkridge, Frederick, Mt. Airy, Ellicott City, Laurel, Westminster, Baltimore County, Anne Arundel County, Carroll County, Prince Georges (Prince George) County, Howard County and Montgomery County, MD.