Maryland Truck Driver Negligence and Howard County Trucking Accident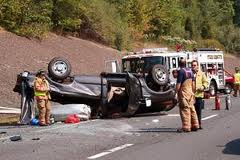 Trucking accidents are very complex. If you were injured in a Maryland trucking accident or lost a family member to a truck wreck on a Baltimore highway, you should seek experienced counsel from a personal injury attorney with trucking accident experience.
Trucking accidents are not as frequent as car accidents; however, because of the size of a truck, trucking accidents are often fatal or involve very serious injuries. But it is neither the complexity nor seriousness of the injury nor the amount of compensation involved that makes trucking accidents so complex, it is a myriad of other factors.
Factors that Make Trucking Accidents More Complex than Auto Accidents
Trucking Rules and Regulations – Trucks and truck drivers have different rules and regulations they must follow when operating on the road. For example, truck drivers are limited in the number of hours they can be driving each day. Unfortunately, greed or a need to earn more income makes some truck drivers disobey the law and put their safety at risk due to truck driver fatigue. Some truck drivers try to take drugs, caffeine, or energy drinks to stay awake, but this is a poor substitute for sleep, and their reflexes are likely not nearly as sharp, putting you and your family at risk. An experienced trucking accident attorney will know and understand the trucking rules and regulations to determine if a failure to follow those rules or regulations contributed to the accident.
Parties Involved in a Trucking Accident – One of the biggest factors that make trucking so complex is that there are often many parties involved, and sometimes multiple parties may have contributed to a trucking accident or 18-wheeler fatality. For example, the truck driver could have contributed to the accident due to truck driver negligence; the owner of the truck rig (not necessarily the driver) could have contributed to the truck accident due to failure to inspect or maintain brakes or other truck rig parts; the owner of the truck trailer (typically someone else) could have also contributed to a trucking accident by failing to inspect tires or tail lights on the truck's trailer; the company that provided the driver could have contributed to the accident by failing to perform a proper background check on the driver; the people who loaded the truck trailer could have contributed to a trucking accident by failing to properly load the trailer; trucking parts companies could contribute to a trucking accident by supplying the wrong parts or defective parts. An experienced trucking accident attorney can ensure all parties have been examined and are included in any claim. Failure to include a party who may have been partially or fully responsible for a trucking accident could seriously jeopardize your claim and the amount of compensation you receive.
If you, or a family member, were injured in a Maryland trucking accident, you should seek counsel from an experienced personal injury attorney Maryland trucking accident lawyer to ensure you, and your family, receive the compensation you deserve.
Contact Our Office
To schedule an appointment, contact us online or call us now at (410) 441-5054. Let us use our skills, experience, knowledge, and resources to help you get full and fair compensation for your serious injuries or loss suffered in a Maryland trucking accident. Attorney Jonathan Scott Smith represents clients in wrongful death cases and personal injury cases involving trucking accidents throughout Maryland and the Baltimore area.
We also handle bodily injuries due to auto accidents, drunk driving wrecks, and motorcycle wrecks on the Baltimore Beltway, Washington Beltway, MD 295, Baltimore Washington Parkway, B-W Parkway, I-695, I-495, Interstate 95 in Maryland, I-70, Maryland Route 32, U.S. Route 29, Baltimore National Pike, Route 40, I-83 and serious injury accidents throughout Maryland.
Ellicott City Tractor Trailer Truck Accident Attorney
Lawyer Smith also provides experienced legal representation for clients in Baltimore, Columbia, MD, Clarksville, Sykesville, Fulton, Elkridge, Frederick, Mt. Airy, Ellicott City, Laurel, Westminster, Baltimore County, Anne Arundel County, Carroll County, Prince Georges (Prince George) County, Howard County and Montgomery County, MD.