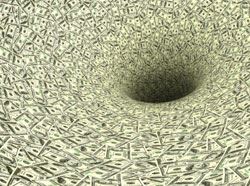 A recent study notes that Baltimore drivers suffer to the tune of $1800 yearly in lost time, motor vehicle repairs, and wasted gas due to damaged and traffic-clogged roads and highways throughout the region. Damaged roadways can play a significant role in vehicle crashes, especially along the Baltimore Beltway and other problem roadways.
The report, released in March by TRIP, a national transportation industry group, says that overall two-thirds of Baltimore area roads are in mediocre or poor shape. The remaining third are in fair or good condition. TRIP also reported that of Maryland's major bridges, one-quarter are significantly deteriorated or do not meet standards of modern design. TRIP obtained its information from the Maryland Department of Transportation (MDOT).
There is good news, however, because in 2011, poor roads and congestion were costing the average Baltimore driver $2,226 annually, so there has been improvement. As well, in Washington, drivers are hit with about $2020 in losses each year due to the same issues. In fact, even the minor improvement made in roadways has resulted in a slight reduction in traffic fatalities in the Baltimore area, says Frank Moretti, TRIP spokesman.
Damaged and defective roads are a common contributor to many car crashes. Many people don't even think about the road conditions that may have led to a car crash in which they were involved. If, however, a dangerous roadway, poor signs in a construction area, or an otherwise defective situation in the road or highway played a role in the crash, it may be possible to file a legal claim against the municipality or Department of Transportation, in addition to the driver who was at fault in the crash.
And unfortunately, it does not look like the roadways are going to be improving any time soon. For instance, the TRIP report was released at a time when the General Assembly is struggling to find a way to increase funding for transportation by up to $700 million yearly. TRIP is a nonprofit based in Washington that is funded by insurance companies, equipment manufacturers, construction firms and unions.
Personal injury lawyer Jonathan Scott Smith has more than 30 years experience fighting for the rights of injured people. If you were injured because someone else made a careless mistake or because the roads on which you were driving were dangerous or poorly designed, you may have a legal basis to sue for all damages related to the crash.
Attorney Smith has a proven track record of Past Results for victims of motor vehicle crashes in Maryland. During Mr. Smith's career protecting the rights of victims and their families, he has earned recognition from his peers and clients:
Selection as a Maryland Super Lawyer.
10.0 Superb rating as a litigation (trial) lawyer by AVVO.
AV-Preeminent ™* Peer Rating, Martindale-Hubbell Law Directory (for 25 years in a row).
"Client's Choice Award" by AVVO, based on average client reviews of 5 stars — the highest client review possible.
2013 Top Attorneys in Maryland (American Registry).
*These are the highest ratings possible for legal skill, ethical practice, and a lawyer's years in practice, disciplinary history, professional achievements and industry recognition.
Maryland Car Accident Attorney: Call to Find Out How We Help
Talk to a personal injury attorney to learn how we can help protect your rights and obtain full and fair compensation for injuries suffered in a motor vehicle crash. Email us or call (410) 441-5054 to schedule a consultation.
Our personal injury law firm represents injured people throughout Maryland, including Howard County, Baltimore County, Anne Arundel County, Carroll County, Frederick County, and Prince George's County.