Howard County Police Officer Injured in Car Accident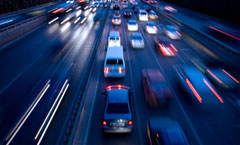 A Howard County law enforcement officer was listed in stable condition at the University of Maryland Shock Trauma Center after suffering injuries in a multivehicle car accident on westbound I-70 near Marriottsville Road, according to Howard County Police. The officer, a 10-year veteran of the force, was sitting in his patrol car after making a routine traffic stop when his vehicle was struck from behind by a pickup truck driven by a man from Taneytown. No one else was injured in the car accident.
At the time of the car crash, the police vehicle and the car that had been stopped were both completely off the road. Authorities believe that the driver of the pickup may have fallen asleep just before the car accident, causing him to drift off the road and strike the police car. The car accident occurred at 11:37 p.m. on Monday, September 16, 2013. All westbound traffic was shut down for about two hours after the car crash.
Maryland Personal Injury and Car Accident Attorney
Maryland Super Lawyer Jonathan Scott Smith has protected the rights of personal injury victims in Maryland for more than 30 years, including victims of a car accident. With a longstanding reputation for effective representation, he has been awarded the Clients' Choice Award from AVVO, based on an average client review of 5 stars (the highest rating possible). He has a perfect 10.0 Superb rating as a litigation attorney from AVVO, and has also built an outstanding reputation with his colleagues in the legal profession, earning an AV rating under Martindale-Hubbell's Peer Review Rating System. The American Lawyer magazine and Martindale-Hubbell both listed him as a 2012 Top-Rated Lawyer.
Top-Rated Personal Injury and Car Crash Lawyer in Howard County
If you have been hurt because of someone else's carelessness or negligence in a car accident, we can help. Contact us by e-mail or call us at (410) 441-5054 to schedule an appointment. We represent injured people in Howard County, Anne Arundel County, Baltimore County, Carroll County, Frederick County, Prince George's County and Montgomery County in Maryland.