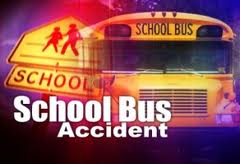 A Baltimore County school bus careened off the road in early October as it was taking Pikesville Middle School students to school, landing upside down in a gully, reported The Baltimore Sun. Five of the 10 students on the bus were treated at a local hospital for minor injuries. The bus driver was also treated and released. Though the bus did not have seat belts for the students, the worst injury was apparently a sprained ankle in the bus crash.
Authorities are uncertain about what caused the bus accident. The bus, traveling in the 10800 block of Greenspring Avenue, skidded sharply off the roadway at about 7:30 a.m., went nearly end over end, and ended up nearly upside down. The students and the driver climbed out of the emergency exits. The bus crash broke windows in the bus, and a tree damaged the front wheel well.
School officials disclosed that the bus has three cameras on board — one facing forward and two facing back. Authorities plan to review the footage to see if anything can be learned as a result of the bus accident. The driver will also be questioned and was required to submit to a drug and alcohol screen as part of the school's routine bus crash investigation.
Top-Rated Maryland Personal Injury Bus Accident Attorney
Attorney Jonathan Scott Smith, a Maryland Super Lawyer, has fought for the rights of personal injury victims in Maryland for more than 30 years, including victims of a bus accident. Because of his record and reputation for effective representation, he has been awarded the Clients' Choice Award from AVVO, based on an average client review of 5 stars (the highest rating possible). He has a perfect 10.0 Superb rating as a litigation attorney from AVVO and has also built an outstanding reputation with his colleagues in the legal profession, earning an AV rating under Martindale-Hubbell's Peer Review Rating System. Smith was also recognized as a 2012 Top-Rated Lawyer by The American Lawyer magazine and Martindale-Hubbell.
Personal Injury Bus Crash Lawyer in Ellicott City and Columbia, MD
We will help you pursue full and fair compensation for all your losses in a bus accident or car accident. Contact us by e-mail or call us at (410) 441-5054 to schedule an appointment. We represent injured people in Howard County, Anne Arundel County, Baltimore County, Carroll County, Frederick County, Prince George's County and Montgomery County in Maryland.