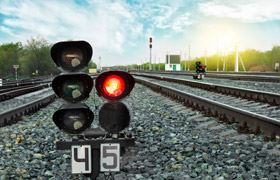 The real cause behind the Philadelphia Amtrak crash that killed eight people earlier this year remains in dispute. Amtrak officials say it was solely the fault of the train's operator, but transportation advocates argue that the crash could have been avoided if Congress had ensured that positive train control mechanisms were in place. Nonetheless, many say that the infrastructure problems involving the nation's railways are insignificant compared to the infrastructure problems with other modes of transportation. Here are some startling and potentially terrifying statistics:
The American Society of Civil Engineers says that many of the bridges in the United States are in desperate need of repair. They put the costs of making those bridges safe at $76 billion.
Experts say that the total amount spent annually to maintain roadways in the United States—approximately $45 billion, is less than half of what really needs to be spent.
Authorities say that nearly 200,000 miles of highways in the United States are considered in poor or mediocre shape.
Top-Rated Personal Injury Lawyer in Ellicott City and Columbia, MD
Attorney Jonathan Scott Smith, a Maryland Super Lawyer, has protected the rights of injured people in Maryland for more than 30 years. Because of his record and reputation for effective representation, he has been awarded the Client's Choice Award from AVVO, based on an average client review of 5 stars (the highest rating possible). He has a perfect 10.0 Superb rating as a litigation attorney from AVVO, and has also built an outstanding reputation with his colleagues in the legal profession, earning an AV-rating under Martindale-Hubbell's Peer Review Rating System. Smith was also recognized as a 2012 Top-Rated Lawyer by The American Lawyer Magazine and Martindale-Hubbell.
Baltimore County, Maryland, Personal Injury Attorney
If you have been hurt because of the wrongful act of another person, you want experienced and aggressive legal counsel. Contact us by e-mail or call us at (410) 441-5054 to schedule an appointment. We represent injured people in Howard County, Baltimore County, Carroll County, Frederick County, Prince Georges County and Montgomery County in Maryland.
Source – http://www.baltimoresun.com/news/opinion/editorial/bs-ed-amtrak-20150518-story.html