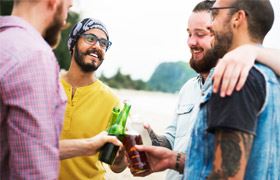 Though the Maryland legislature has yet to take action to allow lawsuits against establishments that serve alcohol to people who subsequently cause death or injury in motor vehicle accidents, the Maryland courts are trying to remedy the situation. Two recent decisions by the Maryland Court of Appeals have officially recognized legal responsibility based on social host liability. In essence, the court has said that individuals who serve alcohol at private parties ultimately have some responsibility if attendees get intoxicated and either hurt others or make bad decisions themselves.
In Dankos v. Staph, the court found that a defendant who allowed a 17-year-old boy to drink too much at a party at her home could potentially be liable for his death. The boy died as a passenger in a truck driven by another party attendee, who was also drunk. The boy's mother argued that he would not have made the bad decision had he not been served alcohol.
In Kiriakos v. Brandon Phillips, the defendant was a 26-year-old co-employee of an 18-year-old. The 26-year-old provided alcohol to the 18-year-old, who subsequently got behind the wheel of an SUV and seriously injured a woman out walking her dog.
The court sent both cases back to trial with the instructions that dram shop laws can be applied to social host liability.
Attorney Jonathan Scott Smith, a Maryland Super Lawyer, has fought for the rights of injured people in Maryland for more than 30 years. Because of his record and reputation for effective representation, he has been awarded the Client's Choice Award from AVVO, based on an average client review of 5 stars (the highest rating possible). He has a perfect 10.0 Superb rating as a litigation attorney from AVVO, and has also built an outstanding reputation with his colleagues in the legal profession, earning an AV-rating under Martindale-Hubbell's Peer Review Rating System. Smith was also recognized as a 2012 Top-Rated Lawyer by The American Lawyer Magazine and Martindale-Hubbell.
Personal Injury Lawyer in Ellicott City and Columbia, MD
At the office of attorney Jonathan Scott Smith, we aggressively protect the rights of injured people. Contact us by e-mail or call us at (410) 441-5054 to schedule an appointment. We represent clients in Howard County, Baltimore County, Carroll County, Frederick County, Prince Georges County and Montgomery County in Maryland.