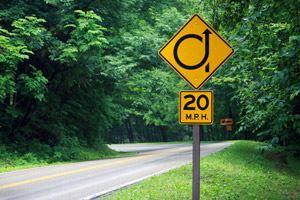 Thanksgiving, Christmas and New Years are routinely among the deadliest of days when it comes to motor vehicle accidents. On average, the number of fatalities nationwide can go up fourfold or five-fold on those days. Here are some ways that you can minimize the risk of serious injury or death on the highways this holiday season.
Don't Drive
If you're not on the road, you won't be at risk to be in an accident. Statistics show that the large percentage of motor vehicle accidents occur during short trips from home. Instead of making a number of ventures to the malls amongst the holiday traffic, shop online. And instead of traveling on Christmas day or New Years Eve, celebrate the holiday with family the weekend before or after the day, when traffic is much lighter.
If the weather conditions are bad, accept that it's probably not a good idea to battle the elements to get to Aunt Martha's house. Call Aunt Martha, tell her how much you love her and that, because you love her, you don't want to put your family at risk by traveling in bad weather.
Don't Drink and Drive
Experts say four out of ten accidents at the holidays involve drivers who are legally intoxicated. You can't keep the other guy from drinking and driving, but you can take responsibility for yourself. A serious motor vehicle accident can turn holiday cheer to grief and sadness in an instant.
Just Drive—Stay Off Your Device
The number of accidents involving drivers talking on cell phones or sending/receiving e-mails or text messages continues to escalate. Many experts believe that distracted driving is rapidly becoming more of a hazard than drunk driving. A number of states have enacted laws prohibiting the use of hand-held devices while behind the wheel.
Get Your Eyes Checked
According to one study, more than 10 million motorists on the country's roadways have uncorrected vision problems.
Experienced Personal Injury Representation in Maryland
If you have been hurt in a motorcycle accident, attorney Jonathan Scott Smith will aggressively help you seek damages for all your losses. Contact our office online or call our office at 410-740-0101 to schedule an appointment. Attorney Smith represents school bus accident victims in Howard County, Anne Arundel County, Baltimore County, Carroll County, Frederick County, Prince Georges County and Montgomery County in Maryland.