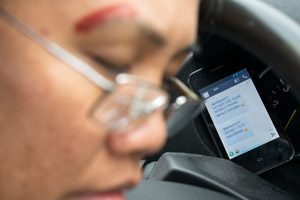 Snapchat is a popular application for smart phones, a social networking app that allows you to communicate with messages that disappear shortly after you post them. The app also has filters you can use…one of them determines the speed at which you are traveling and superimposes it on any image you send. The app also allows you to win a "trophy" if you use certain features, such as the "speedometer" filter. This, of course, can be an incentive to drive while distracted, to take a "selfie" while you're behind the wheel, so that you can get the trophy.
Snapchat has already been implicated in a number of motor vehicle accident claims, from the death of three people in Philadelphia in December, 2016 (the driver was allegedly on Snapchat at the time of the accident) to a woman who crashed (and videotaped the accident) while going 110 miles per hour.
Ellicott City, MD Personal Injury Lawyer
Maryland Super Lawyer Jonathan Scott Smith has aggressively represented personal injury victims in Maryland for more than 30 years, including people who have been hurt in a motor vehicle accident. He understands the impact a personal injury can have on every aspect of your life and will work hard to get full and fair compensation for all your losses.
Because of his record and reputation, he has been a multiple recipient of the Client's Choice Award from AVVO, based on an average client review of 5 stars (the highest rating possible). He has a perfect 10.0 Superb rating as a litigation attorney from AVVO, and is also respected by his colleagues in the legal profession, who have given him an AV-rating under Martindale-Hubbell's Peer Review Rating System. Smith was also recognized as a 2012 Top-Rated Lawyer by The American Lawyer Magazine and Martindale-Hubbell.
Top-Rated Maryland Motor Vehicle Accident Lawyer
We offer full service legal counsel to anyone who has been hurt in a car, truck or motorcycle accident. Contact us by e-mail or call us at 410-740-0101 to schedule an appointment. We represent personal injury victims in Howard County, Baltimore County, Carroll County, Frederick County, Prince Georges County and Montgomery County in Maryland.