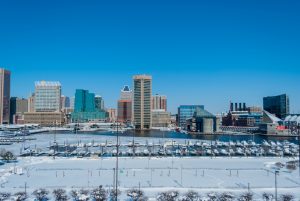 Winter is upon us, and in Maryland, that means snow and ice. Just walking down the street or going shopping can be treacherous. Under Maryland law, the owner or personal in control of residential or commercial property has a duty to reasonably maintain the premises that minimizes the risk of injury to anyone lawfully on the property. How does that apply to accumulation of snow and ice in the Maryland winters?
In Maryland, the duty imposed on property owners can be offset by what is known as "contributory negligence." Under the concept of contributory negligence, if a person knew or should have known of a potential danger, but still took the risk, they may be considered at fault and denied a right to compensation.
With respect to ice and snow accumulation, the right to recover compensation may depend on the type of ice/snow and how quickly it built up. There are at least two cases that hold that a person cannot be contributorily negligent when the ice is "black ice," essentially invisible to the naked eye. An owner or landlord may also escape liability if a jury determines that his or her actions in attempting to remove snow or ice were "reasonable."
Proven Baltimore County Personal Injury Lawyer
Jonathan Scott Smith, a Maryland Super Lawyer, has fought for personal injury victims throughout Maryland for more than 30 years. He understands the devastating effect a personal injury can have on every aspect of your life, so he'll work hard to get compensation for all your losses.
Attorney Smith has been honored as a Top-Rated Lawyer by The American Lawyer Magazine. A multiple recipient of the Client's Choice Award from AVVO, with an average client review of 5 stars (the highest rating possible), he also has a perfect 10.0 Superb rating as a litigation attorney from AVVO. As a testament to the regard with which he is held in the legal community, he's AV-rated under Martindale-Hubbell's Peer Review Rating System.
Top-Rated Columbia, MD Accident Injury Lawyer
We offer comprehensive legal counsel to anyone who has suffered a needless injury because of the carelessness or negligence of others. Send us an e-mail or call us at (410) 441-5054 to schedule an appointment. We represent personal injury victims in Howard County, Baltimore County, Carroll County, Frederick County, Prince Georges County and Montgomery County in Maryland.