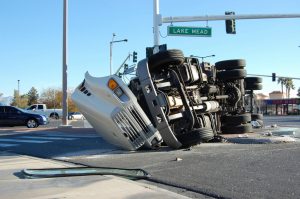 Factors Most Likely to Cause or Contribute to Commercial Trucking Crashes
The number of big commercial trucks—semis, tractor-trailers, 18-wheelers and big rigs—on the nation's roadways continues to rise. Industry officials say as m any as two million tractor-trailers are on American highways every day. In 2016, there were nearly 500,000 police-reported crashes involving large commercial trucks. Unfortunately, when a big rig collides with any other type of vehicle, the consequences are often serious and catastrophic.
According to statistics gathered by the National Highway Traffic Safety Administration (NHTSA), the most common causes of major truck accidents include:
• Driver fatigue—Most commercial truck drivers are paid by the mile, so there's an incentive to spend a lot of time behind the wheel. While there are state and federal regulations limiting time on the road, they are often ignored or disregarded.
• Lack of experience—It takes skill to safely operate an 18-wheeler—unfortunately, too many companies put too many drivers on the road without the requisite experience or training. In addition, veteran drivers can face challenges if they travel on new roads.
• Loading errors—Trucks may be overloaded or may not have loads accurately distributed in a trailer
• Truck maintenance—Drivers are also required to keep maintenance logs and perform regular maintenance, but that can often be neglected as too expensive or time-consuming
• Distracted driving—There are all types of distractions to take a truck driver's eyes off the road—handheld devices, stereos, roadside attractions.
Results-Oriented Baltimore, Maryland Personal Injury Attorney
Attorney Jonathan Scott Smith, a Maryland Super Lawyer, has protected the rights of personal injury victims in Maryland for over 30 years, including individuals who have been hurt in truck accidents. Because of his impressive record of obtaining positive results for his clients, Attorney Smith has received the Client's Choice Award from AVVO, based on an average client review of 5 stars (the highest rating possible). He has a perfect 10.0 Superb rating as a litigator from AVVO, and has also earned an AV-rating under Martindale-Hubbell's Peer Review Rating System, the highest rating possible. He's a Maryland Super Lawyer and was also recognized as a 2012 Top-Rated Lawyer by The American Lawyer Magazine.
Proven Ellicott City Personal Injury Lawyer
If you have suffered needless injury because of the carelessness or negligence of another person, let us help. Contact our office by e-mail or call us at (410) 441-5054 to schedule an appointment. There's no cost for your first consultation. We represent injured people in Howard County, Baltimore County, Carroll County, Frederick County, Prince Georges County and Montgomery County in Maryland.