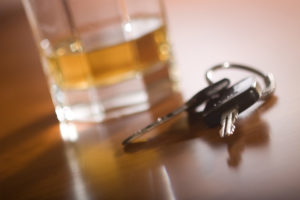 Even though there have been many public service campaigns to reduce the risk of drunk driving, it remains one of the leading causes of motor vehicle accidents. The National Highway Traffic Safety Administration (NHTSA) reports that about 800 people are hurt nationwide every day in motor vehicle accidents involving the use of alcohol, with about 4% of those accidents causing a fatality.
Establishing Liability
Though a conviction for DWI/DUI is evidence of fault, it doesn't necessarily allocate all responsibility to the drunk driver. Maryland is one of a handful of states that follow the legal principle of contributory negligence, which means that if it can be shown you were partially responsible for the crash, you may recover limited damages or no damages at all.
Recovering Compensation
The NHTSA also reports that up to a third of all persons convicted of drunk driving are repeat offenders. Because auto insurance premiums rise so dramatically after a conviction for drunk driving, it's not uncommon for a drunk driver to be underinsured or have no insurance at all. In those situations, you may need to look at other potentially liable parties for compensation:
The bar or other establishment that served the driver alcohol
The driver's employer, if the accident occurred during the course of employment
The manufacturer or designer of any dangerous or defective product that caused or contributed to the accident
The party responsible for maintaining the roads, if the accident was caused by a roadway defect
Experienced Baltimore County DUI/DWI Motor Vehicle Accident Lawyer
Maryland SuperLawyer Jonathan Scott Smith offers more than three decades of experience to men and women in the greater Baltimore area and across the state of Maryland who are hurt in motor vehicle accidents involving the use of alcohol. AV-rated by his colleagues in the legal profession under Martindale-Hubbell's Peer Review Rating System, attorney Smith has been awarded the prestigious Client's Choice Award from AVVO, with an average client review of 5 stars(the highest rating possible). Named a Top-Rated Lawyer by The American Lawyer magazine, he also has a perfect 10.0 (Superb) rating from AVVO as a trial attorney.
Proven Drunk Driving Accident Attorney in Maryland
If you're hurt in a car accident caused by a drunk driver in Maryland, Jonathan Scott Smith can help. Send us an e-mail or call our offices at (410) 441-5054 to schedule an appointment. Your first consultation is without cost or obligation. We represent injured people in Howard County, Baltimore County, Carroll County, Frederick County, Prince George's County, and Montgomery County in Maryland.