Economic and Non-Economic Damages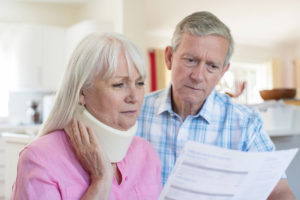 If you're hurt in an accident caused by the wrongful acts of another person, you have the right to pursue full and fair compensation for your losses. In a personal injury lawsuit in Maryland, it's typical to ask for damages (financial compensation) for a wide range of losses. Damages are customarily identified as either economic or non-economic.
What Are Economic Damages?
Economic damages in a personal injury lawsuit are those that are tangible and easy to quantify, usually tied to actual out-of-pocket expense or loss. Common types of economic damages are compensation for lost wages or other income, property losses, and compensation for medical expenses not covered by insurance.
What Are Non-Economic Damages?
Conversely, non-economic damages are those that are intangible and less capable of specific calculation. Common non-economic damages include pain and suffering, loss of enjoyment of life, and loss of companionship or consortium. Because of the lack of concrete numbers representing the loss, the amount of such damages is subject to the discretion of the jury, with review by the court. Juries typically look at a number of factors when calculating non-economic damages, such as the age of the injured party, the severity of their injury, and the lifestyle they had before the accident.
Proven Baltimore Injury Attorney
Maryland SuperLawyer Jonathan Scott Smith brings more than three decades of experience to people in Baltimore and throughout the state of Maryland who suffer personal injury. Highly regarded by attorneys throughout Maryland, Attorney Smith has consistently held an AV-rating under Martindale-Hubbell's Peer Review Rating System and has been named a Top-Rated Lawyer by The American Lawyer magazine. He has also received positive reviews from his clients, earning the prestigious Client's Choice Award from AVVO, with an average client review of 5 stars (the highest rating possible), as well as a perfect 10.0 (Superb) rating from AVVO as a trial attorney.
Effective Maryland Accident Injury Lawyer
When you're hurt because of someone else's wrongful act, attorney Jonathan Scott Smith can help. Contact us by email or call our offices at (410) 441-5054 to schedule an appointment. Your first consultation is free. We represent injured people in Howard County, Baltimore County, Carroll County, Frederick County, Prince George's County, and Montgomery County in Maryland.