The Tools Your Attorney Will Use to Build Your Case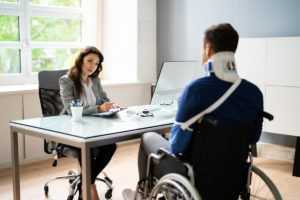 When you seek damages at trial for a personal injury in Maryland, you must prove to the jury that the facts as you have represented them are supported by hard evidence. That may be done with physical or testimonial support. How does your attorney gather the necessary information to persuade the jury of the merits of your claim?
The Common Tools for Discovery in a Personal Injury Lawsuit
The legal term for the process of collecting evidence is the "discovery" process. In the United States, the principle of "open discovery" applies. All parties have an equal right of access to all relevant evidence. Parties don't have an affirmative obligation to voluntarily disclose any relevant evidence obtained, but may not intentionally conceal or fail to disclose any evidence requested or sought.
The tools most frequently used to gather evidence are:
Depositions—Proceedings where attorneys for all parties may ask questions of a party or witness. Depositions are done outside of the court, with no judge or jury present. A court reporter will typically be there to document all questions and answers in writing. Witnesses usually appear voluntarily, but may be compelled by subpoena, if necessary.
Interrogatories—Written questions submitted by one party to another party. The court typically establishes limits on the number of interrogatories permitted.
Requests for production—Court orders requiring a party to produce physical evidence for review by opposing counsel
As a part of the discovery process, attorneys may also engage the services of private investigators or expert witnesses. A witness may not be compelled to speak to a P.I., but a party does not need permission from the court to use one.
Experienced Baltimore Personal Injury Lawyer
Maryland SuperLawyer Jonathan Scott Smith has fought for the rights of personal injury victims across Baltimore County and throughout the state of Maryland for more than 30 years. Highly respected by his colleagues in the legal profession for his trial advocacy skills, Attorney Smith is AV-rated under Martindale-Hubbell's Peer Review Rating System and has been named a "Top-Rated Lawyer" by the American Lawyer Magazine. He has received the prestigious Client's Choice Award from AVVO, with an average client review of 5 stars (the highest rating possible), and carries a perfect 10.0 Superb rating from AVVO as a trial attorney.
Proven Maryland Accident and Injury Attorney
If you or someone you love has been injured because of the careless or wrongful acts of another person, we can help. Contact attorney Jonathan Scott Smith by e-mail or call our offices at (410) 441-5054 to schedule an appointment. Your first consultation is free. We represent injured people in Howard County, Baltimore County, Carroll County, Frederick County, Prince George's County and Montgomery County in Maryland.