Proving Who Caused the Accident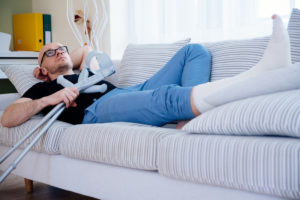 When you have been hurt in a car, truck or motorcycle accident because of the carelessness or wrongful act of another person, you have a right to seek compensation for any injuries or losses resulting from the accident. In most instances, if you need to go to court to get a fair resolution, you'll be filing a lawsuit based on a legal claim of negligence. To successfully establish negligence, you must show that:
The defendant (person from whom you seek a monetary award) breached the duty of care, i.e., did not act as a reasonable person would under the circumstances
That the failure to act reasonably caused the accident
That you sustained actual losses as a consequence of the accident
Establishing the Cause of the Accident
To show cause, you must provide evidence in court that demonstrates a link between the defendant's act (or failure to act) and the accident that led to your losses. Under the laws of personal injury, as they have evolved in Maryland, there are two different types of cause that must be shown:
Actual, or "but for" causation—You must first show that, had the defendant not breached the duty of care, or had the defendant acted as a reasonable person, the accident would not have occurred
Proximate cause—This requirement is a little more complex, but the essence of it is that you must show that the accident (and the consequences of the accident) were reasonably foreseeable as a result of the breach of care. If there are unusual circumstances or intervening events that could not reasonably be foreseen that caused the accident, there may not be liability.
Experienced Baltimore Personal Injury Lawyer
Maryland Super Lawyer Jonathan Scott Smith has aggressively represented personal injury victims in Baltimore and across the state of Maryland for more than three decades. Long respected by his colleagues in the legal profession for his skills in the courtroom, Attorney Smith is AV-rated under Martindale-Hubbell's Peer Review Rating System and has been lauded as a "Top-Rated Lawyer" by the American Lawyer Magazine. He has received the prestigious Client's Choice Award from AVVO, with an average client review of 5 stars (the highest rating possible), and carries a perfect 10.0 Superb rating from AVVO as a trial attorney.
Results-Oriented Baltimore County Car Wreck Attorney
If you or someone you love has been injured because of the careless or wrongful acts of another person, we can help. Contact attorney Jonathan Scott Smith by e-mail or call our offices at 410-740-0101 to schedule an appointment. Your first consultation is free. We represent injured people in Howard County, Baltimore County, Carroll County, Frederick County, Prince Georges County and Montgomery County in Maryland.