Can You Recover Damages When a Crime Causes a Loved One's Death?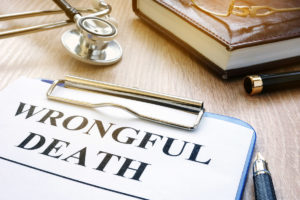 When someone's negligence causes the death of a family member, you have the right to seek compensation for your losses. But what if someone commits a criminal act that results in death? Are criminal penalties the only remedy in such a situation? Can you seek damages when someone else's criminal conduct causes the death of your loved one?
In Maryland, the answer is yes. Under Maryland law, a death is considered "wrongful" if it is caused by "an act, neglect or default, including a felonious act." Maryland law permits a wrongful death claim if the deceased would have had a personal injury claim had he or she survived.
A wrongful death claim is a civil action, wholly distinct from a criminal prosecution. In a wrongful death lawsuit, the remedy or sanction is purely financial. Wrongful death damages can include compensation for lost support, companionship, and consortium, as well as other damages resulting from the loss of life. While a criminal prosecution may lead to fines, those are not paid to survivors but instead go to the state. A single act can, and often does, result in a criminal prosecution and a wrongful death civil claim.
Proven Maryland Wrongful Death Attorney
Jonathan Scott Smith, a Maryland SuperLawyer, has fought for the rights of survivors in wrongful death claims for more than 40 years. Highly regarded by fellow attorneys in the Maryland bar, Attorney Smith has long held an AV rating under Martindale-Hubbell's Peer Review Rating System. He has also earned high praise from his clients, including the prestigious Client's Choice Award from AVVO, with an average client review of 5 stars (the highest rating possible), as well as a perfect 10.0 (Superb) rating from AVVO as a trial attorney. He has also been honored as a Top-Rated Lawyer by The American Lawyer magazine.
Experienced Baltimore Accidental Death Lawyer
If you've lost a loved one because of the wrongful act of another person, attorney Jonathan Scott Smith can help. Send us an e-mail or call our offices at (410) 441-5054 to schedule an appointment. Your first consultation is without cost or obligation. We represent injured people in Howard County, Baltimore County, Carroll County, Frederick County, Prince George's County, and Montgomery County in Maryland.