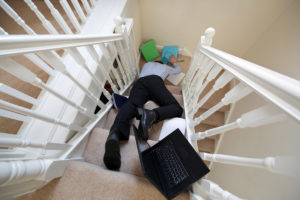 In Maryland, as in other states, the owner of commercial property has certain duties with respect to anyone legally visiting the property. A business owner must either correct any dangerous situation or provide adequate warning to legal visitors. However, to recover compensation for a slip-and-fall, an injured person must demonstrate that the business owner either knew or should have known of the dangerous condition.
Did the Owner Have Actual Knowledge of the Hazard?
You can bring a claim against an owner if you can prove they were actually informed of the hazardous condition by a customer, employee, or someone else with personal knowledge of the condition. An owner also is deemed to have had actual notice if the danger was caused or created by an employee, even if the employee was unaware that they created the situation.
Was There Constructive Notice?
In some situations, the circumstances indicate that the owner should have known of the dangerous condition. It may have existed for a sufficient length of time that it would be unreasonable to expect that the owner wouldn't know; it may have been obvious to anyone spending time on the property; or it may have been a condition that had occurred before.
Results-Oriented Maryland Premises Liability Lawyer
Jonathan Scott Smith, a Maryland Super Lawyer, brings more than 30 years' experience to victims of personal injury in Baltimore and throughout the state of Maryland. Well-respected by attorneys throughout the state, Attorney Smith has consistently received an AV-rating under Martindale-Hubbell's Peer Review Rating System. He also has earned accolades from his clients, earning the prestigious Client's Choice Award from AVVO, with an average client review of 5 stars (the highest rating possible), as well as a perfect 10.0 (Superb) rating from AVVO as a trial attorney. Attorney Smith has been named a Top-Rated Lawyer by The American Lawyer magazine.
Effective Montgomery County Slip-and-Fall Attorney
If you suffer needless injury in a slip-and-fall on commercial property, attorney Jonathan Scott Smith can help. Send us an e-mail or call our offices at 410-740-0101 to schedule an appointment. Your first consultation is without cost or obligation. We represent injured people in Howard County, Baltimore County, Carroll County, Frederick County, Prince George's County, and Montgomery County in Maryland.