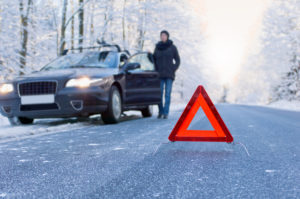 Winter's almost here, and in Maryland, that means snow and ice, as well as fogged up windows, often a contributing factor in a motor vehicle accident. When driving in winter weather, are motorists required to take additional precautions to prevent accident and injury? Well, sort of…
The Standard of Care in Motor Vehicle Accidents
As a general rule, when you have been injured in an auto accident, you'll seek compensation based on allegations of negligence by another person. To prove negligence, you must first show that the other driver failed to use reasonable care, and that the failure to do so caused the accident and injuries. That standard is based on what an "average person of ordinary prudence" would do under the same circumstances. Whether the other person's actions met the standard of care will be determined by the jury.
Accordingly, the standard remains the same—that of a reasonable person—but it takes the specific circumstances at the time of the accident into account. The question posed to the jury, then, would be "what would a reasonable person do while driving under the same weather conditions?" Some scenarios under which a jury might find liability include:
A failure to remove snow or ice from a vehicle before taking it on the road (unlike many other states, there is no law in Maryland that requires such removal)
Failure to maintain a sufficient distance from other vehicles to allow time and room to safely apply the brakes
Operating a vehicle at an unsafe speed under the circumstances
Failure to take road conditions into consideration when making a turn, leading to loss of control
Proven Baltimore County Personal Injury Attorney
Maryland SuperLawyer Jonathan Scott Smith has successfully represented personal injury victims in Baltimore and throughout the state for more than three decades, including clients who have suffered injuries in car, truck and motorcycle accidents. Highly regarded as a trial lawyer by other Maryland lawyers, he has long been AV-rated under Martindale-Hubbell's Peer Review Rating System and has been honored as a "Top-Rated Lawyer" by the American Lawyer Magazine. He has earned the prestigious Client's Choice Award from AVVO, with an average client review of 5 stars (the highest rating possible), and holds a perfect 10.0 Superb rating from AVVO as a trial attorney.
Results-Oriented Baltimore County Car Wreck Attorney
If you or someone you love has been injured in an automobile accident, we can help. Contact attorney Jonathan Scott Smith by e-mail or call our offices at (410) 441-5054 to schedule an appointment. Your first consultation is free. We represent injured people in Howard County, Baltimore County, Carroll County, Frederick County, Prince Georges County and Montgomery County in Maryland.