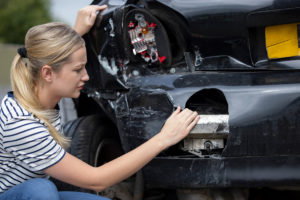 A motor vehicle accident can have a significant financial impact, leading to lost wages, substantial medical bills and property damage/loss. Those types of damages are typically referred to as "economic" damages, because they're more tangible and easier to calculate.
There are other types of compensation that are available after a car accident, what are known as "non-economic" damages, such as:
Loss of enjoyment of life—the inability to do the things that were a meaningful or significant part of your life before the accident, including routine activities of daily life
Loss of companionship or consortium—the inability to have a close or intimate relationship with others because of your injuries
Physical pain and suffering—The actual physical response to your injuries
Because non-economic damages are not tied to specific financial losses, there are a number of ways that juries can calculate them:
Using a reasonableness standard—the court may instruct the jury to award damages they consider to be reasonable under the circumstances
Using a "multiplier"—the court may instruct the jury to determine economic damages and then multiply them by a factor, typically between 1 and 10. For example, the jury may determine total economic damages to be $100,000 and use a factor of 3 to award $300,000 in non-economic damages.
Experienced Maryland Personal Injury Lawyer
Attorney Jonathan Scott Smith, a Maryland SuperLawyer, has fought for the rights of personal injury victims in Baltimore and across the state of Maryland for over 30 years, including people who have been hurt in motor vehicle accidents. Well-esteemed as a trial lawyer by his colleagues in the legal profession, Attorney Smith has long been AV-rated under Martindale-Hubbell's Peer Review Rating System and has been named a "Top-Rated Lawyer" by the American Lawyer Magazine. He has also received the prestigious Client's Choice Award from AVVO, with an average client review of 5 stars (the highest rating possible), and has a perfect 10.0 Superb rating from AVVO as a trial attorney.
Results-Oriented Baltimore County Car Wreck Attorney
If you or someone you love has been injured in an automobile accident, we can help. Contact attorney Jonathan Scott Smith by e-mail or call our offices at (410) 441-5054 to schedule an appointment. Your first consultation is free. We represent injured people in Howard County, Baltimore County, Carroll County, Frederick County, Prince Georges County and Montgomery County in Maryland.