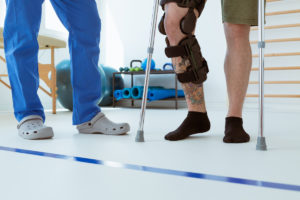 You've been hurt because someone else wasn't paying attention. The facts may seem pretty straightforward, so you may think your claim will be quickly resolved. There are, however, a number of potential challenges the defendant can raise during the legal process:
You contributed to the chain of events that caused the accident or injury—Maryland is one of a few states that still adheres to the legal principle of contributory negligence. In certain circumstances, if the defense can demonstrate that you engaged in actions that contributed to causing the accident, you may be denied any recovery.
The injuries you allege were suffered before the accident that is the subject matter of the lawsuit—This is known as a pre-existing injury. You can recover for any aggravation or re-injury, but not for any injury that existed at the time of the accident.
You signed a waiver—As a practical matter, waivers are unlikely to be enforced by a court if the language is vague or overbroad, or if the result would be unfair
You knew the activity was dangerous—There are some activities that are considered inherently dangerous, such that you will be deemed to have assumed the risk of possible injury
You did not file your lawsuit in a timely manner—In Maryland, as in other states, you have a limited time (pursuant to the statute of limitations) to file a claim or it will be barred
Results-Oriented Maryland Personal Injury Lawyer
Maryland Super Lawyer Jonathan Scott Smith has fought for the rights of injured people across the state for more than three decades. Recognized by his fellow attorneys for his trial experience, Attorney Smith was named a "Top-Rated Lawyer" by the American Lawyer Magazine, and has long been AV-rated under Martindale-Hubbell's Peer Review Rating System (the highest rating possible).The National Trial Lawyers Association, a "by invitation only" professional organization, has named him among the top 100 attorneys in the state of Maryland.
Smith has also earned the prestigious Client's Choice Award from AVVO, with an average client review of 5 stars (the highest rating possible), as well as a perfect 10.0 Superb rating from AVVO as a trial attorney.
Aggressive Prince George's County, Maryland Accident Injury Attorney
If you or someone you love has suffered any type of loss as the result of a personal injury, we can help. Contact attorney Jonathan Scott Smith by e-mail or call our offices at (410) 441-5054 to schedule an appointment. Your first consultation is free. We represent injured people in Howard County, Baltimore County, Carroll County, Frederick County, Prince Georges County and Montgomery County in Maryland.