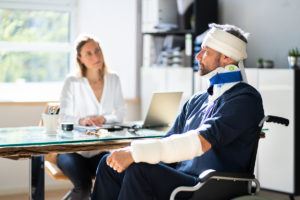 When you've been injured because of someone else's carelessness or negligence, you have the right to file a lawsuit to recover full and fair compensation for all your losses. You want the right lawyer, though, to handle your claim—your choice of legal counsel can have a significant impact on the result you get. So what are the most important traits to look for when hiring a personal injury attorney?
Experience is Essential
There's simply no substitute for experience. You want a lawyer who's been in practice for a number of years, who has focused his or her practice on personal injury and, ideally, who has handled personal injury claims like yours. If you've been hurt because of the carelessness of a medical professional, a commercial truck driver or the manufacturer of a dangerous or defective product, you'll typically be better served by someone who has successfully handled those types of claims. With medical malpractice, you'll want someone who knows how to establish the standard of care and who can work easily with medical experts. With commercial truck accidents or product liability claims, you'll want someone who understands the unique causes and the specialized types of evidence often involved.
Results Matter, Too
When you're interviewing potential personal injury lawyers, always ask them for examples of how they've obtained positive results in the past. You want a lawyer who knows how to get the outcome you want. You also want an attorney who can either negotiate an effective settlement or take your case to trial, if necessary (and who know when to settle or go to trial).
Proven Baltimore County Personal Injury Attorney
Jonathan Scott Smith, a Maryland SuperLawyer, has successfully represented injured people across the state for more than 30 years. Highly regarded by his fellow attorneys for his trial experience, Attorney Smith was named a "Top-Rated Lawyer" by the American Lawyer Magazine, and has long been AV-rated under Martindale-Hubbell's Peer Review Rating System (the highest rating possible). The National Trial Lawyers Association, a "by invitation only" professional organization, has listed him among the top 100 attorneys in the state of Maryland. Smith has also earned the prestigious Client's Choice Award from AVVO, with an average client review of 5 stars (the highest rating possible), as well as a perfect 10.0 Superb rating from AVVO as a trial attorney.
Results-Oriented Howard County, Maryland Accident Injury Attorney
If you or someone you love has suffered any type of loss as the result of a personal injury, we can help. Contact attorney Jonathan Scott Smith by e-mail or call our offices at (410) 441-5054 to schedule an appointment. Your first consultation is free. We represent injured people in Howard County, Baltimore County, Carroll County, Frederick County, Prince Georges County and Montgomery County in Maryland.