What You Need to Show to Recover Compensation
You were hurt in an accident, maybe on icy or snowy roads in Maryland. But it was just an accident, right? Nobody meant to hurt you…those things just happen. Wrong!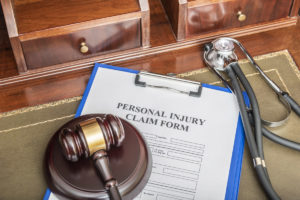 Though you can bring a lawsuit against someone who intentionally causes you harm, as a practical matter, most personal injury claims are based on allegations of negligence. What does that mean?
To prove negligence, you must show that the person from whom you seek compensation did not act as a reasonable person would have in similar circumstances. For example, if there's snow or ice on the roads, a reasonable person would likely drive at a slower speed, maintain a greater distance from other cars, and start to brake long before reaching an intersection. If you can show that the person driving the car that hit you was driving unreasonably fast under the conditions or was tailgating you, you have proven the first element of negligence.
You must then show that the failure to act reasonably caused the accident. That requires that you demonstrate that the accident would not have occurred if the person had acted reasonably (driven at a slower speed). You must also show that the accident and/or your injuries were a reasonably foreseeable consequence of the failure to use due care.
Proven Maryland Personal Injury Attorney
Maryland Super Lawyer Jonathan Scott Smith brings more than three decades of experience to people in Baltimore and throughout the state of Maryland who have been hurt because of the carelessness or negligence of others. An experienced trial attorney, Smith has been named a "Top-Rated Lawyer" by the American Lawyer Magazine, and has long been AV-rated by his colleagues in the legal profession under Martindale-Hubbell's Peer Review Rating System (the highest rating possible). The National Trial Lawyers Association, a "by invitation only" professional organization, has listed him among the top 100 attorneys in the state of Maryland.
Attorney Smith has also earned the prestigious Client's Choice Award from AVVO, with an average client review of 5 stars (the highest rating possible), as well as a perfect 10.0 Superb rating from AVVO as a trial attorney.
Results-Oriented Montgomery County Accident Injury Attorney
If you or someone you love has suffered any type of loss as the result of a personal injury, we can help. Contact attorney Jonathan Scott Smith by e-mail or call our offices at 410-740-0101 to schedule an appointment. Your first consultation is free. We represent injured people in Howard County, Baltimore County, Carroll County, Frederick County, Prince Georges County and Montgomery County in Maryland.