The Coverage You Are Entitled to After a Car Accident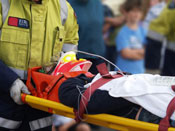 When you have been injured in a car accident in Maryland, whether on one of the major roads in Howard County, such as I-295 (the Baltimore-Washington Parkway), Route 40 (the Baltimore National Pike), Route 32, Route 29, or Route 100 or in a residential area, one of the first places you look for compensation is your insurance provider. Insurance policies can be difficult to decipher, and your insurance company is seldom helpful in informing you about the full extent of the benefits to which you are entitled. You need an experienced lawyer to make certain you get the compensation you paid for under your policy.
Jonathan Scott Smith is a top-rated former prosecutor with over 40 years of experience aggressively fighting for people and achieving successful results in car accident claims. He has many satisfied and repeated clients. We have represented other attorneys, as well as judges, law students, police officers, and courthouse employees. With a strong record of successful results, we get many of our new cases as referrals from former clients or from other lawyers.
Mr. Smith's extensive trial experience — and track record of successful Past Results — has earned him the recognition of his peers and clients:
Top 100 Lawyers in Maryland by Super Lawyers (2014)
"10.0 Superb" as a litigation attorney by AVVO.
"Client's Choice Award" by AVVO, based on average client reviews of 5 stars — the highest client review possible.
Client Distinction Award (Client Review Rating of 4.5 or higher on a 5.0 scale – less than 4% of 900,000+ attorneys listed by Martindale-Hubbell).
"10 Best Attorneys in the State of Maryland in Client Satisfaction," American Institute of Personal Injury Attorneys
The National Trial Lawyers: Top 100 Trial Lawyers (by invitation only and limited to the Top 100 Trial Lawyers from each state).
"AV-Preeminent™*" Highest Peer Rating by Martindale-Hubbell Law Directory (28 consecutive years).
The Million Dollar Advocates Forum (Awarded to fewer than 1% of U.S. Attorneys who have Obtained Multi-Million Dollar Verdicts, Awards, and Settlements).
These include the highest ratings possible for legal skill, ethical practice, a lawyer's years in practice, disciplinary history, professional achievements, and industry recognition.
To schedule a confidential consultation, contact our office by e-mail or call us now at (410) 441-5054.
Getting All the Insurance Benefits to Which You Are Entitled
In Maryland, when you have been hurt in a car accident, you can recover benefits under the at-fault party's policy, as well as your own insurance policy. The at-fault party should have liability insurance to cover such situations. The limits of liability can be substantial, running from $50,000 to $1 million. You can carry collision coverage to reimburse you for any damage to your vehicle in a crash.
You can buy what is known as PIP, or personal injury protection, coverage. PIP coverage is not automatically included in an insurance policy. You can waive your right to this coverage, although doing so is seldom a good idea. Maryland law allows you to recover benefits under a PIP claim, even if you recover some compensation from the at-fault driver's insurance company. PIP coverage is generally limited to specific dollar amounts, such as $2,500, $5,000, or $10,000. PIP also covers medical expenses and 85 percent of lost time or wages, up to the policy amount. A PIP claim will not increase your premium in any way because it is a no-fault coverage required by law.
PIP coverage may be disallowed if you fail to file claims in a timely manner or fail to follow specific instructions. At the law office of Jonathan Scott Smith, we will prepare and file all necessary claims to help you pursue all benefits available under your insurance policy. We will seek all records necessary to prepare your claim, and will carefully document lost income so that you can seek reimbursement under a PIP clause.
Contact Us
For an appointment, contact us by e-mail or call us now at (410) 441-5054. Let us use our considerable experience to help you get full and fair compensation for all your injuries.
Attorney Jonathan Scott Smith represents clients in wrongful death cases and personal injury cases involving bodily injuries in auto accidents, truck wrecks, drunk driving wrecks, and motorcycle wrecks on the Baltimore Beltway, Washington Beltway, MD 295, Baltimore Washington Parkway, B-W Parkway, I-695, I-495, Interstate 95 in Maryland, I-70, Maryland Route 32, U.S. Route 29, Baltimore National Pike, Route 40, I-83 and serious injury accidents throughout Maryland.
Maryland Personal Injury Lawyer
Lawyer Smith also provides experienced legal representation for clients in Baltimore, Columbia, MD, Clarksville, Sykesville, Fulton, Elkridge, Frederick, Mt. Airy, Ellicott City, Laurel, Westminster, Baltimore County, Anne Arundel County, Carroll County, Prince Georges (Prince George) County, Howard County, and Montgomery County, MD.
"I chose Mr. Smith Because He Was Very Honest And His Knowledge Of The Law Is Superb. He Explained Every Detail To Me So That I Understood Everything Along The Way. He Made Me Trust Him And Believe In Him. His Professional Ethics And Knowledge, Thorough Preparation, And Care For The Client Are Outstanding. His Office Staff Was Always Very Responsive And Always Got Back To Me Right Away."
C.B. – Dunwoody, GA
Nanny Sustained Permanent Injuries After Being Rear-Ended. The jury returned a Verdict Of $337,717.00.