Do Property Owners Have a Duty to Remove Ice and Snow?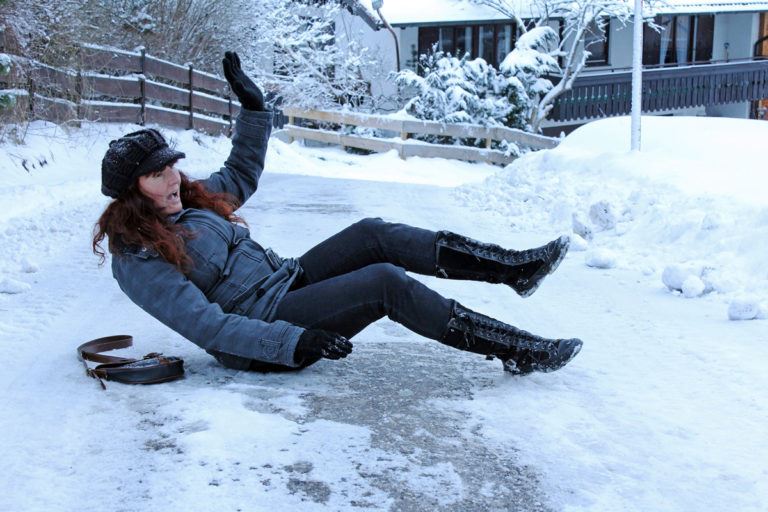 According to weather data compiled at the Baltimore/Washington Thurgood Marshall International Airport, Baltimore gets about 20 inches of snow every year, with most of it falling in January and February. The city has at least an inch of snow on the ground for nearly two weeks every winter (13 days average), and up to 5 inches of accumulation an average of three days each year. That snow can easily turn into ice, and both can pose risks to motorists or pedestrians.
The Duties of Property Owners in Baltimore Winter Weather
In Maryland, residential and commercial property owners must take reasonable steps to minimize the risk of injury to anyone legally visiting their property. There is no requirement that they absolutely prevent the occurrence of any hazardous conditions involving ice or snow. They must, however, reasonably monitor the premises to discover potentially dangerous situations, and must either remedy the problem, warn potential visitors of the danger, or prevent visitors from obtaining access to those areas of the property where the dangers exist. Accordingly, with an accumulation of ice and/or snow, a property owner must do one of the following:
Remove the snow or ice
Post visible warnings advising potential visitors of the snowy or icy conditions
Cordon off areas of the property where snow and/or ice will or have accumulated
Proven Baltimore Personal Injury Attorney
Jonathan Scott Smith, a Maryland SuperLawyer, has fought for the rights of injured people in Baltimore and across the state for more than three decades, including people who have been hurt in winter weather accidents. Highly regarded by his colleagues in the legal profession for his skills in the courtroom. The National Trial Lawyers Association, a "by invitation only" organization, has named him one of the top 100 attorneys in Maryland.
Attorney Smith has long been AV-rated under Martindale-Hubbell's Peer Review Rating System and has been named a "Top-Rated Lawyer" by the American Lawyer Magazine. He carries the prestigious Client's Choice Award from AVVO, with an average client review of 5 stars (the highest rating possible), as well as a perfect 10.0 Superb rating from AVVO as a trial attorney.
Results-Oriented Baltimore County Car Accident Attorney
If you or someone you love has been injured in a slip and fall or motor vehicle accident caused by snowy or icy conditions on residential or commercial property, we can help. Contact attorney Jonathan Scott Smith by e-mail or call our offices at (410) 441-5054 to schedule an appointment. Your first consultation is free. We represent injured people in Howard County, Baltimore County, Carroll County, Frederick County, Prince Georges County and Montgomery County in Maryland.