Can You Still Be Liable Even if You Were Traveling Below the Speed Limit?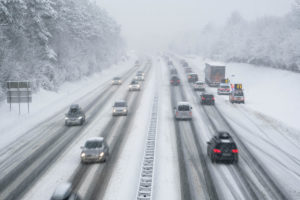 It's winter in Maryland and that often means snow or ice on the roads. You may choose to drive more defensively, to lower your speed and to give yourself more room to stop. But can you be held liable for personal injuries caused in a motor vehicle accident because you couldn't stop, even though you were traveling below the posted speed limit? As a general rule, the answer is yes.
Personal Injury Claims in Maryland
In Maryland, as in all states, a lawsuit to recover compensation for injuries and losses suffered in an accident is based on a legal theory of negligence. To determine whether or not you were "negligent," a jury will look at your actions—the speed you were traveling or the amount of space you allowed between you and the car in front of you, for instance—and determine whether, under the circumstances, you were acting as a "reasonable person" would have acted, in the same situation. Whether or not your actions were in compliance with the laws may be evidence that your behavior was "reasonable," but won't be controlling. If the jury determines that, under the existing conditions (with snow or ice on the road), a "reasonable person" would have driven at a slower speed or stayed farther behind other vehicles, you may be found responsible.
Proven Baltimore Motor Vehicle Accident Lawyer
Jonathan Scott Smith, a Maryland SuperLawyer, brings more than three decades of experience to victims of personal injury in Baltimore and across the state. Highly regarded by his colleagues in the legal profession for his courtroom prowess, Attorney Smith has long been AV-rated under Martindale-Hubbell's Peer Review Rating System and has been named a "Top-Rated Lawyer" by the American Lawyer Magazine. He carries the prestigious Client's Choice Award from AVVO, with an average client review of 5 stars (the highest rating possible), as well as a perfect 10.0 Superb rating from AVVO as a trial attorney.
Results-Oriented Baltimore County Car Accident Attorney
If you or someone you love has been injured because of the careless or wrongful acts of another person, we can help. Contact attorney Jonathan Scott Smith by e-mail or call our offices at (410) 441-5054 to schedule an appointment. Your first consultation is free. We represent injured people in Howard County, Baltimore County, Carroll County, Frederick County, Prince Georges County and Montgomery County in Maryland.