What Are the Duties of Property Owner Regarding Snow and Ice?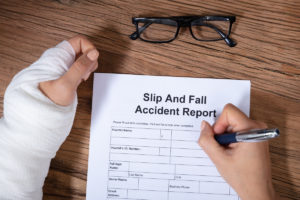 Winter is upon us, and in Maryland, that means snow and ice. Though the average snowfall across the state is about 20 inches a year, there are some parts of the state that can accumulate several feet. That snow can pose its own risks, but may also turn into ice, making conditions extremely dangerous. Property owners in Maryland have certain duties to maintain their premises in winter to minimize the risk of injury to persons legally visiting the property.
The Duties of Property Owners in Maryland's Winter Weather
Residential and commercial property owners must take reasonable steps to ensure that the risk of injury is minimized. In Maryland, this means that property owners must monitor and inspect property for potential hazards and either take steps for eliminate the danger or reasonably warn visitors of the potential risks. This requires homeowners and commercial property owners to pay attention to weather forecasts and conditions, and take reasonable measures, including laying down salt or sand, removing snow or ice, or preventing access to premises. Many municipalities in Maryland have specific ordinances requiring the removal of snow within a specific period of time.
Proven Baltimore County Slip and Fall Attorney
Maryland Super Lawyer Jonathan Scott Smith has aggressively advocated for personal injury victims brings in Baltimore and across the state of Maryland for more than 30 years. A well-respected trial attorney, Smith has been listed as a "Top-Rated Lawyer" by the American Lawyer Magazine and has consistently been AV-rated by his colleagues in the Maryland Bar under Martindale-Hubbell's Peer Review Rating System (the highest rating possible). The National Trial Lawyers Association, a "by invitation only" professional organization, has named him one of the top 100 attorneys in the state of Maryland.
A recipient of the prestigious Client's Choice Award from AVVO, with an average client review of 5 stars (the highest rating possible), Jonathan has also earned a perfect 10.0 Superb rating from AVVO as a trial attorney.
Experienced Premises Liability Lawyer in Maryland
If you or someone you love has been hurt in a slip and fall in snowy or icy weather, let attorney Jonathan Scott Smith help you pursue full and fair compensation for all your losses. Contact our offices by e-mail or call us at 410-740-0101 to schedule an appointment. Your first consultation is free. We represent injured people in Howard County, Baltimore County, Carroll County, Frederick County, Prince Georges County and Montgomery County in Maryland.