Howard County Lawyer Receives Highest of Lawyer Ratings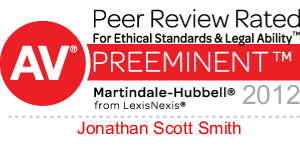 Jonathan Scott Smith, a noted Columbia lawyer, just received the highest peer rating for legal ability and ethical practice. Mr. Smith earned the "AV Preeminent" rating from his peers, which means that he is considered to have very high professional ethics and preeminent legal ability. Only a small and select group of lawyers receives a Martindale-Hubbell Peer Review Rating for the highest ethical standards and professional ability.
Legal Profession's Most Prestigious Source of Lawyer Ratings
The Martindale-Hubbell Peer Review Ratings evaluates lawyers in the United States and Canada based on the anonymous opinions of judges and other lawyers, including both those who are rated and those who are not. It is the oldest and most prestigious source of lawyer ratings.
Martindale-Hubbell Peer Review Ratings were created in 1887 as an objective tool that would attest to a lawyer's ability and professional ethics, based on the confidential opinions of other lawyers and judges who have worked with the lawyers they are evaluating. Reviewers are instructed to assess their colleagues' general ethical standards and legal ability in a specific area of practice.
Columbia and Ellicott City Personal Injury and Medical Malpractice Lawyer
For more than 30 years, Jonathan Scott Smith has been fighting for injured clients and obtaining successful results. The care we give to each case gets noticed. It's what sets our firm apart.
Mr. Smith's extensive trial experience — and track record of successful Past Results — has earned him the recognition of his peers, with an AV® Preeminent™* Peer Review Rating in the Martindale-Hubbell peer review rating process, and a 10.0 Superb AVVO rating. These are the highest ratings possible for legal skill, ethical practice, lawyer's years in practice, disciplinary history, professional achievements and industry recognition.
Mr. Smith has more than 30 years of courtroom experience in personal injury cases. He is never hesitant to take a case to court if needed to get a good result. He thoroughly investigates each case he handles and is diligent in preparing for court.
At our office, we are about our clients. We're here to help you through this difficult time. Put our skill and experience to work on your case. Call (410) 441-5054 now, or contact us online, to schedule an appointment.
Attorney Jonathan Scott Smith represents clients in personal injury, auto accidents, truck accidents, motorcycle accidents, medical malpractice, nursing home abuse and negligence, throughout Maryland, including the cities of Columbia, Clarksville, Sykesville, Fulton, Elkridge, Frederick, Mt. Airy, Ellicott City, Laurel, Westminster, and Baltimore. Lawyer Smith also provides experienced legal representation for clients in Baltimore County, Anne Arundel County, Carroll County, Prince Georges (Prince George) County, Howard County and Montgomery County, MD.