Legal Assistance when Medical Professionals Leave Sponge in Body or Fail to Remove Surgical Tools
Medical malpractice can occur when health care providers violate standards of care when providing treatment and when that violation leads an injury or injuries. Medical malpractice can be especially dangerous during complicated medical procedures such as surgery. That's why you need a Maryland medical malpractice lawyer on your side.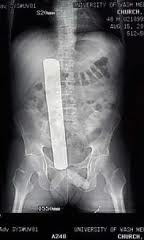 Instrument or Sponge Left in Body After Surgery
One well-known and potentially serious and even fatal instance of surgical malpractice is the failure to remove a sponge or other surgical instrument during surgery. The failure to remove surgical instruments can lead to years of discomfort, the need for otherwise unnecessary surgery, further injuries and even death.
If you have questions regarding your legal rights following a surgical error, contact Maryland medical malpractice lawyer Jonathan Scott Smith. Attorney Smith has over 30 years of experience fighting for injured clients. His track record in handling medical malpractice cases includes numerous six-figure recoveries. For more information, contact our firm by calling (410) 441-5054.
What You Need to Know about Maryland's Medical Negligence and Surgical Error Laws
Medical issues resulting from the failure to remove surgical instruments can manifest quickly or can take years. Statutes of limitation, which limit the time for filing a medical malpractice claim, can expire. It is therefore important to obtain legal assistance as quickly as possible once you suspect medical malpractice has occurred.
Maryland Medical Malpractice Lawyer
Mr. Smith's extensive trial experience — and track record of successful Past Results — has earned him the recognition of his peers, with an AV® Preeminent™* Peer Review Rating in the Martindale-Hubbell peer review rating process, and a 10.0 Superb AVVO rating. These are the highest ratings possible for legal skill, ethical practice, lawyer's years in practice, disciplinary history, professional achievements and industry recognition.
Mr. Smith is a Maryland medical malpractice lawyer who uses over 30 years of successful experience in handling personal injury claims when investigating your case, working to prove negligence, demonstrating injuries and pursuing compensation. As one recent client stated, attorney Smith "thoroughly prepared and presented [our] case… and achieved a fair settlement". Call (410) 441-5054 to or contact us online regarding medical malpractice in Maryland.