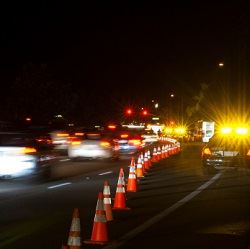 Cecil County prosecutors have charged a 26-year-old Maryland State Trooper with drinking and driving after the officer flipped his personal vehicle on Rte 279 near Elkton early in the morning on Thanksgiving Day. Authorities say the defendant faces charges of driving under the influence, driving while impaired, negligent driving and reckless driving. After the accident, he was taken to Christiana Hospital for treatment and subsequently released.
The trooper, employed by the State Police as a rescue technician in the Aviation Command, is 17 months into an initial 24 month probationary period with the Maryland State Police, and assigned to the Frederick barrack. He has apparently been suspended with pay.
Maryland Super Lawyer Jonathan Scott Smith has fought for the rights of personal injury victims for more than 30 years. Because of his record and reputation, he has been a multiple recipient of the Client's Choice Award from AVVO, based on an average client review of 5 stars (the highest rating possible). He has a perfect 10.0 Superb rating as a litigation attorney from AVVO, and is also respected by his colleagues in the legal profession, who have given him the top rating under Martindale-Hubbell's Peer Review Rating System. Smith was also recognized as a 2013 Top-Rated Lawyer by The American Lawyer Magazine and Martindale-Hubbell.
Top-Rated Personal Injury Lawyer in Ellicott City and Columbia, MD
If you or someone you love have been injured because of the careless or wrongful acts of another person, you want an experienced and aggressive personal injury attorney to protect your rights. Contact us by e-mail or call us at (410) 441-5054 to schedule an appointment. We represent injured clients in Howard County, Baltimore County, Carroll County, Frederick County, Prince Georges County and Montgomery County in Maryland
.
http://www.wbaltv.com/news/trooper-injured-in-crash-charged-with-dui/36672854