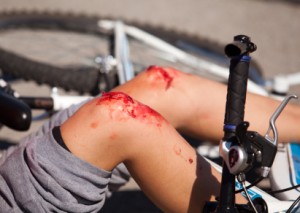 According to the Centers for Disease Control, 743 people were killed in 2013 in accidents involving bicycles, a decrease from the high of 772 in 2006, but a significant increase from just two years earlier, when the death toll stood at 682. The injury rate, which has hovered at or above 50,000 for most of the last decade, dropped to approximately 48,000 in 2013, as compared to an all-time high of 68,000 in 1993. Here are the most common causes of bicycle accidents.
Studies consistently show that the vast majority of bicycle accidents are caused by motor vehicle operators. Here are the most frequent causes, in order of magnitude:
A driver turns right into the path of a bicycle traveling in the same direction—This can happen for a couple reasons. The driver may forget or neglect to use a turn signal, or may be in a position where the turn signal is not visible to the cyclist. This is why you tend to see so many cyclists cross an intersection in the middle, rather than to the right of any cars that are present. In most jurisdictions, a car turning right must yield to a cyclist going straight through an intersection, just as you would yield to a pedestrian.
A driver turns left into the path of an oncoming cyclist—The most frequent explanation from the motorist is "I never saw the bike." Drivers tend to look for vehicles and miss bicycles. Unfortunately, cyclists may have to simply drive defensively. However, the cyclist coming through the intersection has the right of way over a motorist turning left, unless there's a green left-turn signal.
A driver rear-ends a cyclist—This is the most common cause of drunk-driving accidents involving bicycles.
A driver sideswipes or opens a door in front of a bicyclist—Again, this is mostly due to a simple failure to pay attention.
Other Types of Bicycle Accidents
Though less common, bicycle accidents can happen when:
A cyclist fails to pay attention to traffic signs, signals or rules
A cyclist fails to use appropriate speed, skill or technique on the road
A bike has manufacturing or design defects that cause it to crash
Experienced Personal Injury Representation in Maryland
If you have been hurt in a bicycle accident, attorney Jonathan Scott Smith will aggressively help you seek damages for all your losses.
Contact our office online or call our office at (410) 441-5054 to schedule an appointment. Attorney Smith represents school bus accident victims in Howard County, Anne Arundel County, Baltimore County, Carroll County, Frederick County, Prince Georges County and Montgomery County in Maryland.