A wrongful death lawsuit against doctors at Franklin Square Hospital, in Baltimore, has been settled, moment before the trial was to begin. The action was filed by Jason Jaworski after his wife Linda died following a medical procedure there.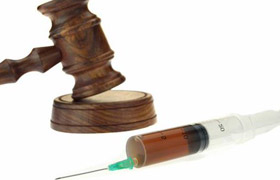 According to court filings, Mrs. Jaworksi was taken to the hospital in March, 2014, complaining of high blood pressure, weakness, abdominal pain and problems swallowing. Attorney for Mr. Jaworski alleged that medical personnel misread the symptoms and ordered a kidney biopsy that was unnecessary. Mrs. Jaworkski suffered from severe anemia and was taking anti-coagulants at the time. The biopsy led to uncontrolled bleeding, which ultimately caused Mrs. Jaworski's death.
TOP-RATEDPERSONAL INJURY ATTORNEY IN COLUMBIA, MD
Attorney Jonathan Scott Smith, a Maryland Super Lawyer , has fought for the rights of injured people in Maryland for more than three decades, including victims of medical malpractice. Because of his record and reputation for effective representation, he has been awarded the Client's Choice Award from AVVO, based on an average client review of 5 stars (the highest rating possible). He has a perfect 10.0 Superb rating as a litigation attorney from AVVO, and has also built an outstanding reputation with his colleagues in the legal profession, earning an AV-rating under Martindale-Hubbell's Peer Review Rating System. Smith was also recognized as a 2012 Top-Rated Lawyer by The American Lawyer Magazine and Martindale-Hubbell.
Baltimore County, Maryland, Medical Malpractice Lawyer
If you have been hurt because of the carelessness or negligence of a medical professional, we can help. Contact us by e-mail or call us at (410) 441-5054 to schedule an appointment. There's no cost for your first consultation. We represent injured people in Howard County, Baltimore County, Carroll County, Frederick County, Prince Georges County and Montgomery County in Maryland.