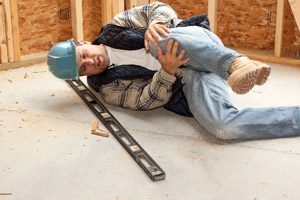 It's no secret that working in construction, whether it's single family home or high-rise building projects, is one of the most dangerous occupations in the world. Though there are many different types of risks, statistics show that the majority of fatalities on construction sites stem from four types of accidents:
Falls from heights—This is far and away the most likely causes of death on a construction site, with more than a third (36%) of construction site deaths resulting from falls. This includes falls from roofs, upper levels of high-rise construction, ladders and scaffolding, as well as cranes and other devices.
Falling objects—Studies show that about one in ten construction site deaths are caused by falling objects, including building materials, tools, debris and even other workers.
Exposure to live electrical current—Approximately the same number of workers died from electrocution. OSHA records indicate that the causes include contact with overhead power lines by ladders, scaffolding or equipment, as well as direct contact with live wires.
Caught-between accidents—About two percent of construction site fatalities involved workers who were crushed between two objects, such as heavy equipment or machinery, construction materials or debris.
Columbia, MD Personal Injury Lawyer
Maryland Super Lawyer Jonathan Scott Smith has tenaciously advocated for personal injury victims across Maryland for more than 30 years. He knows that a personal injury can affect every aspect of your life, so he works hard to get full and fair compensation for all your losses.
Smith has been honored as a Top-Rated Lawyer by The American Lawyer Magazine and Martindale-Hubbell. He's a multiple recipient of the Client's Choice Award from AVVO, based on an average client review of 5 stars (the highest rating possible) and has a perfect 10.0 Superb rating as a litigation attorney from AVVO. As an indication of the respect by which he is held by his colleagues in the legal profession, he's AV-rated under Martindale-Hubbell's Peer Review Rating System.
Top-Rated Maryland Accident Injury Lawyer
We offer comprehensive legal representation to people who have suffered injury because of the carelessness or negligence of others. Contact us by e-mail or call us at (410) 441-5054 to schedule an appointment. We represent personal injury victims in Howard County, Baltimore County, Carroll County, Frederick County, Prince Georges County and Montgomery County in Maryland.