IS THE PERSON IN THE TRAILING VEHICLE ALWAYS RESPONSIBLE?
According to statistics gathered by the National Highway Traffic Safety Administration (NHTSA), rear-end collisions account for more than 30% of all motor vehicle accidents nationwide. There's a common assumption that the person driving the rear vehicle is always legally responsible. While that's often the case, it's not always so.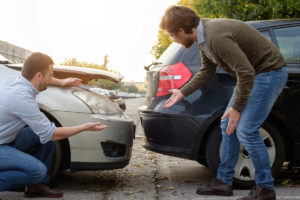 In many accidents, including motor vehicle crashes, liability is based on a legal theory of negligence. To determine whether a party to an accident was negligent, a court customarily starts by identifying what type of behavior would have been reasonable under the circumstances. All persons in society are held to the standard of engaging in reasonable conduct at all times.
In a car accident, the court will conduct just such an analysis. With respect to the trailing driver, the court may look at the following:
Whether the speed of the trailing driver was reasonable, given the distance between the two cars and the prevailing rate of speed on that roadway at the time;
The extent to which the trailing driver was distracted by a handheld device, passengers in the vehicle, or things along the roadside; and
Whether the trailing driver lacked the mental or physical capacity to be behind the wheel, e.g., whether the driver was intoxicated or impaired by illness or injury.
The court also may consider whether the driver in the front car was negligent:
Were there warning lights on the rear of the vehicle that were not working?
Did the driver in front accidentally put his or her car in reverse?
Experienced Carroll County Personal Injury Attorney
Maryland SuperLawyer Jonathan Scott Smith has fought for the rights of personal injury victims in Baltimore and throughout the state of Maryland for more than 30 years. He's long been AV-rated by his colleagues in the legal profession under Martindale-Hubbell's Peer Review Rating System, and he's been named a Top-Rated Lawyer by The American Lawyer magazine. A proven trial attorney with a longstanding reputation for getting positive results for clients, Smith has received the Client's Choice Award from AVVO, with an average client review of 5 stars(the highest rating possible). He also has a perfect 10.0 (Superb) rating from AVVO as a litigator.
Effective Howard County Motor Vehicle Accident Lawyer
If you have been hurt in a rear-end accident in Maryland, we can help. Contact our office by e-mail or call us at (410) 441-5054 to schedule an appointment. There's no cost for your first consultation. We represent injured people in Howard County, Baltimore County, Carroll County, Frederick County, Prince George's County, and Montgomery County in Maryland.