Can You Sue the Government When You Trip on a Sidewalk?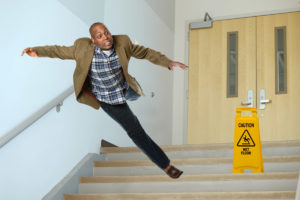 If you're like many folks in Maryland, you're probably starting to get a little cabin fever as a result of the state's "shelter-in-place" requirement during the COVID-19 pandemic. Fortunately, one of the outdoor activities permitted is exercise, including taking a walk in your neighborhood, provided you keep a safe distance from others. With more people out walking, though, the risk of slip-and-falls necessarily increases. What happens if you slip and fall on a city-owned sidewalk? Can you bring legal action against a municipality for such an accident?
The good news is that local, county, and state governments may be held responsible for slip-and-fall accidents on public sidewalks. The legal process, though, is different than it is for slip-and-falls on private property. If you are injured on a public sidewalk, you must bring any claim for damages under the Maryland Tort Claims Act, which requires that you file your complaint much sooner than required for private claims. A claim under the MTCA must be submitted within one year of the date of your accident, whereas a private claim typically can be filed up to three years from the date of injury. The initial claim must be filed with the Maryland State Treasurer.
Experienced Baltimore County Personal Injury Attorney
Maryland SuperLawyer Jonathan Scott Smith has protected the rights of personal injury victims in Baltimore and throughout the state for more than 30 years. He's AV-rated by his colleagues in the legal profession under Martindale-Hubbell's Peer Review Rating System and has been named a Top-Rated Lawyer by The American Lawyer magazine. A proven trial attorney known for obtaining positive results for clients, he's received the Client's Choice Award from AVVO, with an average client review of 5 stars(the highest rating possible), and he has a perfect 10.0 (Superb) AVVO rating as a litigator.
Effective Howard County Slip-and-Fall Lawyer
If you have been injured on a city sidewalk in Maryland, we can help. Contact our office by e-mail or call us at 410-740-0101 to schedule an appointment. There's no cost for your first consultation. We represent injured people in Howard County, Baltimore County, Carroll County, Frederick County, Prince George's County, and Montgomery County in Maryland.