When you seek medical treatment for an injury or illness, you expect, at a minimum, that your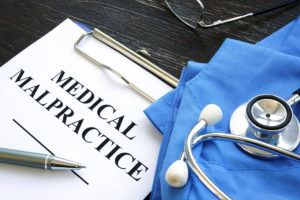 healthcare provider won't make your condition worse through their own negligence. It unfortunately happens, though, whether by human error, understaffing, or other carelessness.
When you file a legal claim to recover losses caused by someone else's wrongful act, the lawsuit is usually based on the principle of negligence. To prove negligence, you must show three things:
the at-fault party did not meet the standard of care expected in society,
the failure to meet the standard of care caused an accident, and
the accident caused actual loss.
In most negligence claims, the standard of care is measured by comparing the conduct of the defendant to what an ordinary person of average prudence would have done in similar circumstances. In a medical malpractice claim, though, the standard is higher. To prove medical negligence, you must show that the defendant's actions were not consistent with the conduct expected of a reasonably competent and skilled medical professional with the same training and experience practicing in the same medical community.
Experienced Ellicott City Personal Injury Lawyer
Maryland SuperLawyer Jonathan Scott Smith has protected the rights of personal injury victims, including people injured by medical carelessness, for more than three decades, representing clients across the state of Maryland. He has an AV-rating (the highest possible) from his colleagues in the legal community under Martindale-Hubbell's Peer Review Rating System and has been awarded the prestigious Client's Choice Award from AVVO, with an average client review of (the highest rating possible). He's also been named a Top-Rated Lawyer by The American Lawyer magazine and carries a perfect 10.0 (Superb) rating from AVVO as a trial attorney.
Proven Medical Malpractice Attorney in Maryland
If you suffer loss because of the wrongful acts of a medical professional in Maryland, Jonathan Scott Smith can help. Send us an e-mail or call our offices at 410-740-0101 to schedule an appointment. Your first consultation is without cost or obligation. We represent injured people in Howard County, Baltimore County, Carroll County, Frederick County, Prince George's County, and Montgomery County in Maryland.