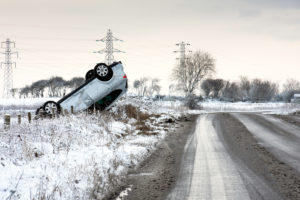 Snow and ice are a normal part of winter in Maryland, but it often seems that many drivers here forget how much impact wintery conditions can have on operating a motor vehicle. Do drivers have a higher standard of care when traveling on snow-covered or icy roads than they do the rest of the year? In a way…yes.
The Standard of Care for Motorists in Maryland
Under the legal principle of negligence, all persons in Maryland, including motorists, have a duty to act as a reasonable person would give the circumstances. The law doesn't specifically define what qualifies as "reasonable" but equates it with what an "average person of ordinary prudence" would do. When considering whether a party's actions are reasonable, the court will look at all the surrounding circumstances, including the weather and the prevailing road conditions. If there's snow or ice on the roads, the court must ask what a reasonable person would do while driving on roads under the same conditions. That might require traveling at a lower speed, traveling further behind the car in front of you, and making certain that brakes, lights, and other equipment are functioning properly. Accordingly, while the "reasonable person" standard applied by the court is still the same when an accident occurs in winter, the conclusion may be different than an accident occurring in summer because the road and weather circumstances differ.
Experienced Baltimore Motor Vehicle Accident Attorney
Jonathan Scott Smith, a Maryland SuperLawyer, has consistently obtained positive results for personal injury victims in Baltimore and across the state of Maryland for more than 30 years. Attorney Smith is well-respected by other lawyers, carrying an AV rating under Martindale Hubbell's Peer Review Rating System. His hard work and dedication to his clients have earned him the prestigious Client's Choice Award from AVVO, with an average client review of 5 stars (the highest rating possible), as well as a perfect 10.0 (Superb) rating from AVVO as a trial attorney. He has also been named a Top-Rated Lawyer by The American Lawyer magazine.
Proven Car Crash Lawyer in Maryland
If you're hurt in a Maryland automobile wreck, Jonathan Scott Smith can help. Send us an email or call our offices at (410) 441-5054 to schedule an appointment. Your first consultation is without cost or obligation. We represent injured people in Howard County, Baltimore County, Carroll County, Frederick County, Prince George's County, and Montgomery County in Maryland.