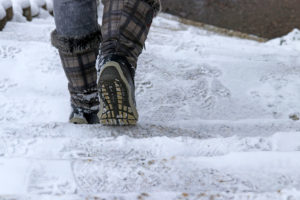 In Maryland winters, temperatures can regularly fluctuate above and below freezing, creating the risk of injury on icy or snowy sidewalks, steps, parking lots, and other pedestrian thoroughfares. There are, however, some steps you can take to reduce the risk of slipping and falling.
Pay attention to your footwear—When it's cold outside, it's best to have insulated boots with a good rubber sole. If your footwear isn't insulated, the warmth from your feet may cause snow or ice to melt and either soak through your shoes or refreeze, both conditions that can lead to serious injury. Additionally, rubber gives you more traction than leather or plastic, but make certain it's not worn and hasn't hardened with time.
Use salt or sand to keep areas free of ice and snow—Apply liberally to places where ice and snow tends to accumulate.
Take it slowly—It's better to get there a little late. Shortening your stride gives you more traction and better balance. Take steps one at a time, putting both feet on one step before ascending or descending to the next.
Experienced Maryland Slip-and-Fall Injury Lawyer
Maryland Super Lawyer Jonathan Scott Smith has aggressively protected the rights of personal injury victims in Baltimore and across the state of Maryland for more than 30 years. Well-respected by other lawyers, Smith is AV-rated (the highest rating possible) under Martindale-Hubbell's Peer Review Rating System. His proven skills and dedication to his clients have earned him the prestigious Client's Choice Award from AVVO, with an average client review of 5 stars(the highest possible), as well as a perfect 10.0 (Superb) rating from AVVO as a trial attorney. He has also been named a Top-Rated Lawyer by The American Lawyer magazine.
Results-Oriented Premises Liability Attorney in the Greater Baltimore Area
If you're hurt in a slip-and-fall in Maryland, Jonathan Scott Smith can help. Send us an e-mail or call our offices at 410-740-0101 to schedule an appointment. Your first consultation is without cost or obligation. We represent injured people in Howard County, Baltimore County, Carroll County, Frederick County, Prince George's County and Montgomery County in Maryland.