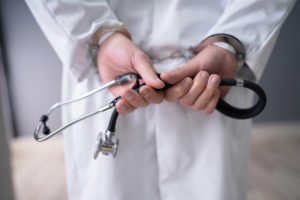 The Different Types of Damages Available
In Maryland, as in other states, when you file a personal injury lawsuit, including a claim for medical malpractice, there are three types of damages you can seek: economic, non-economic, and punitive:
Economic damages are losses that are easily calculated—tangible costs such lost wages and income, unreimbursed medical expenses, and any costs to retrofit your home, car, or other property to accommodate your injury. These losses are typically determined from pay stubs, medical bills, and actual costs of home/car modifications. In a medical malpractice lawsuit in Maryland, there is no cap or limit on the amount of economic damages you can recover.

Non-economic damages are less tangible and more difficult to calculate and include such things as:

Pain and suffering—compensation for chronic or continual pain or discomfort related to injuries suffered
Loss of enjoyment of life—the inability to engage in activities that previously brought you joy, satisfaction, meaning, or pleasure
Loss of companionship or consortium—the ability to be physically intimate with or close to those you love

Maryland places a cap on non-economic damages in a medical malpractice claim. For non-fatal medical malpractice claims, the most you can recover for non-economic damages in 2021 is $845,000. If the medical negligence causes death, you can recover upto $1,056,250.

Punitive damages are rarely available in personal injury claims in Maryland, as they require proof that the defendant acted with "actual malice," a difficult standard to meet.
Proven Maryland Medical Malpractice Lawyer
Jonathan Scott Smith, a longtime Maryland SuperLawyer, has aggressively protected the rights of medical malpractice and other personal injury victims in Baltimore and across the state of Maryland for more than three decades. He has earned the highest respect from his colleagues in the legal profession, who consistently give him an AV-rating under Martindale-Hubbell's Peer Review Rating System. Mr. Smith has also proven himself with his clients, receiving the prestigious Client's Choice Award from AVVO, with an average client review of 5 stars (the highest rating possible). He has a perfect 10.0 (Superb) rating from AVVO as a trial attorney and has been named a Top-Rated Lawyer by The American Lawyer magazine.
Experienced Baltimore County Medical Negligence Attorney
If you have suffered needless injury because of the negligence or carelessness of a medical professional, attorney Jonathan Scott Smith can help. Send us an e-mail or call our offices at (410) 441-5054 to schedule an appointment. Your first consultation is without cost or obligation. We represent injured people in Howard County, Baltimore County, Carroll County, Frederick County, Prince George's County, and Montgomery County in Maryland.