Determining the Amount of Non-Economic Losses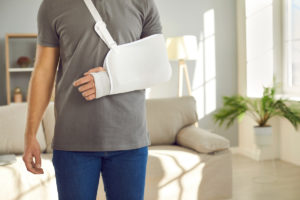 When you have been hurt in any type of accident in Maryland as a result of the carelessness or negligence of another person, you have the right to file a lawsuit seeking full and fair compensation for all your losses. Some of your damages will be easy to calculate—lost income or out-of-pocket medical bills, for example. Those are known as "economic damages." Other losses, though, including pain and suffering, are less tangible and harder to determine. They're known as "non-economic" damages.
How Does a Court Calculate Damages for Pain and Suffering?
Because "pain and suffering" is a subjective term, with no documentation to support the measure of damages, juries can take a number of approaches:
Some juries apply a "multiplier," calculating the total amount of economic damages and multiplying it by a certain factor, based on the nature of the injuries, the amount and potential duration of the pain and suffering. For example, a jury may calculate in lost income and medical bills and multiply it by two, assessing pain and suffering at $1 million.
Some juries will attempt to identify a reasonable amount of non-economic damages, based again on the severity of the injuries, their duration and the frequency of any pain and suffering, among other factors
Proven Baltimore Personal Injury Attorney
Maryland SuperLawyer Jonathan Scott Smith has fought for the rights of injured people in Baltimore County and across the state for more than 30 years. Highly regarded by his colleagues in the legal profession as a trial lawyer, Jonathan is AV-rated under Martindale-Hubbell's Peer Review Rating System (the highest rating possible) and has been named a "Top-Rated Lawyer" by the American Lawyer Magazine. He has also been called one of the top 100 attorneys in Maryland by the National Trial Lawyers Association, a "by invitation only" professional organization.
Smith has also earned the prestigious Client's Choice Award from AVVO, with an average client review of 5 stars (the highest rating possible), as well as a perfect 10.0 Superb rating from AVVO as a trial attorney.
Results-Oriented Howard County, Maryland Personal Injury Lawyer
If you or someone you love has suffered any type of loss as the result of a personal injury, we can help. Contact attorney Jonathan Scott Smith by e-mail or call our offices at (410) 441-5054 to schedule an appointment. Your first consultation is free. We represent injured people in Howard County, Baltimore County, Carroll County, Frederick County, Prince George's County and Montgomery County in Maryland.