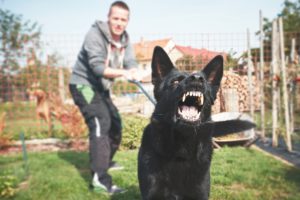 In Maryland, most personal injury claims are based on a legal theory of negligence. To prove negligence, you must show that the person from whom you seek compensation (the "defendant") failed to act as a reasonable person would under the circumstances, causing an accident that resulted in actual losses.
Some personal injury claims, though, such as dog bite lawsuits, fall under a legal principle known as "strict liability." In essence, the concept of strict liability, usually set forth in a statute, or written law, allows an injured person to recover damages without the need to show negligence. Instead, an injured person need only show that the defendant met the requirements of the stature.
For example, under the Maryland dog bite law, a dog owner will be liable "for any injury, death, or loss to person or property" caused by a dog when the dog is "running at large." There's no requirement that the injured person show that the dog owner knew or should have known that the dog might engage in aggressive behavior. The only exceptions, as set forth in the Maryland law, are:
If the victim is trespassing on the dog owner's property
If the victim is committing or attempting to commit a crime on the dog owner's property
If the victim is committing or attempting to commit a crime against any person
If the victim is provoking the dog immediately before or at the time of the attack
Aggressive Baltimore Personal Injury Attorney
Maryland SuperLawyer, Jonathan Scott Smith has fought for the rights of injured people throughout the greater Baltimore metro area and across the state of Maryland for more than 30 years. Known and respected by his colleagues in the legal profession for his courtroom skills, Attorney Smith has long been AV-rated under Martindale-Hubbell's Peer Review Rating System (the highest rating possible) and has also been named a "Top-Rated Lawyer" by the American Lawyer Magazine. The National Trial Lawyers Association, a "by invitation only" professional organization, has called him one of the top 100 attorneys in Maryland.
Smith has also earned the prestigious Client's Choice Award from AVVO, with an average client review of 5 stars (the highest rating possible), as well as a perfect 10.0 Superb rating from AVVO as a trial attorney.
Proven Howard County, Maryland Personal Injury Lawyer
If you or someone you love has suffered any type of loss as the result of a personal injury, we can help. Contact attorney Jonathan Scott Smith by e-mail or call our offices at (410) 441-5054 to schedule an appointment. Your first consultation is free. We represent injured people in Howard County, Baltimore County, Carroll County, Frederick County, Prince Georges County and Montgomery County in Maryland.