What Is a Deposition in a Personal Injury Lawsuit?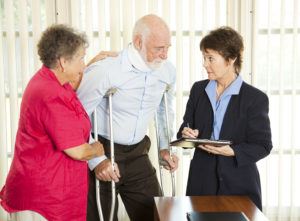 In the aftermath of an accident, when you have been hurt because of the wrongful acts of another person, you have the right to seek compensation for your losses by filing a personal injury lawsuit in court. As a part of that process, you may be required to appear for a deposition. What is a deposition and how is it used in a personal injury lawsuit? What does a deposition look like?
What Is a Deposition?
A deposition is one of the tools used in the American legal system during the "discovery" phase of a trial, when attorneys for all parties are seeking to gather and assess all evidence. A deposition is the oral examination of a witness (who may also be a party) by attorneys for all parties in the dispute. A court reporter is present at the deposition, which is typically held at the offices of one of the attorneys (though that is not a requirement). The witness is sworn to an oath and must answer truthfully or risk charges of perjury.
Depositions serve a couple of purposes. They help attorneys gather information before trial, which can be used to build a case or pursue a settlement. Statements made at a deposition may also be introduced at trial, often to show contradictions between what a witness said at the deposition and what was said at trial.
Experienced Maryland Personal Injury Attorney
Maryland SuperLawyer Jonathan Scott Smith has fought for the rights of personal injury victims throughout the state for more than three decades. A proven trial lawyer, he has long been AV-rated under Martindale-Hubbell's Peer Review Rating System and has been listed as a "Top-Rated Lawyer" by the American Lawyer Magazine. He has earned the prestigious Client's Choice Award from AVVO, with an average client review of 5 stars (the highest rating possible), and also holds a perfect 10.0 Superb rating from AVVO as a trial attorney. Smith has also been included among the top 100 attorneys in Maryland by the National Trial Lawyers Association, a "by invitation only" professional organization.
Proven Howard County Accident Injury Lawyer
If you or someone you love has suffered any type of loss as the result of a personal injury, we can help. Contact attorney Jonathan Scott Smith by e-mail or call our offices at (410) 441-5054 to schedule an appointment. Your first consultation is free. We represent injured people in Howard County, Baltimore County, Carroll County, Frederick County, Prince Georges County and Montgomery County in Maryland.