After any type of accident, there are specific measures you need to take to give yourself the best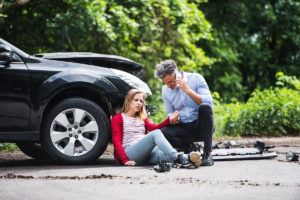 chance of full physical and financial recovery:
Seek immediate medical attention—Be willing to go to the hospital by ambulance, if necessary. Don't try to be strong or heroic—if you can't move under your own power or you're experiencing significant pain or discomfort, wait until emergency personnel arrive and defer to their judgment. Even if you can walk away from an accident, go to an urgent care or visit your primary care doctor. Many symptoms may not be immediately present.
Gather information/evidence—Help your legal team by getting contact information from parties and witnesses. In addition, use your phone camera to take pictures of anything related to the accident, from injuries to property damage to environmental conditions.
Hire experienced legal counsel—The sooner, the better. You may be surprised to encounter difficulties with an insurance carrier. Let your lawyer be your liaison with adjusters. Your attorney will also ensure that you take the right steps to protect all your legal rights.
Proven Maryland Personal Injury Lawyer
A longtime Maryland SuperLawyer, Jonathan Scott Smith has fought for the rights of injured people in Baltimore and across the state for more than 30. Known in the legal community for his courtroom skills, Attorney Smith is AV-rated under Martindale-Hubbell's Peer Review Rating System (the highest rating possible) and has been selected as a "Top-Rated Lawyer" by the American Lawyer Magazine. He's earned the prestigious Client's Choice Award from AVVO, with an average client review of 5 stars (the highest rating possible), as well as a perfect 10.0 Superb rating from AVVO as a trial attorney.
Smith has also been called one of the top 100 attorneys in Maryland by the National Trial Lawyers Association, a "by invitation only" professional organization. He holds a 10.0 (Superb rating) as a litigation attorney from AVVO, as well as AVVO's Client's Choice Award, with an average client review of 5 stars.
Aggressive Montgomery County Accident Injury Attorney
If you or someone you love has suffered any type of loss as the result of a personal injury, we can help. Contact attorney Jonathan Scott Smith by e-mail or call our offices at 410-740-0101 to schedule an appointment. Your first consultation is free. We represent injured people in Howard County, Baltimore County, Carroll County, Frederick County, Prince Georges County and Montgomery County in Maryland.