Can an Insurer Refuse to Pay if You Weren't Wearing a Seatbelt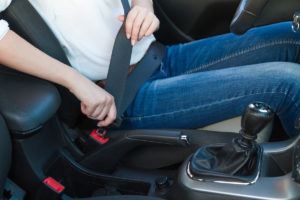 Under Maryland law, all passengers in a motor vehicle in motion on public property must wear a seatbelt. What is the impact, then, on your right to recover compensation for an injury if you are involved in a motor vehicle accident while not buckled in? With Maryland's strict "contributory negligence" approach, will you be banned from recovering damages for your injuries?
Maryland Rejects the Seatbelt Defense
Though Maryland is one of only three states that still follow the principle of contributory negligence, where any carelessness or negligence by an injured party serves as a bar to recovery, Maryland has held that insurance companies may not refuse to pay an insurance claim because the injured party was not wearing a seatbelt at the time of an accident. This is based on findings that whether or not an injured party is wearing a seatbelt has nothing to do with what actually caused the accident. Under the Maryland statute governing liability in motor vehicle accidents where an injured party was not wearing a seatbelt, a defendant may not introduce evidence of such a failure in order to show contributory negligence or to reduce damages. In fact, the parties may not make any reference to seatbelts at trial unless the design, installation, manufacture, supply or repair of the seatbelt is an issue.
ProvenMarylandPersonal Injury Attorney
Maryland SuperLawyerJonathan Scott Smithhas fought for the rights of injured people across the state for more than 30 years.Highly respected by his colleagues in the legal community for his courtroom skills, Attorney Smith wasnamed a "Top-Rated Lawyer" by the American Lawyer Magazine, and has long held an AV-rating under Martindale-Hubbell's Peer Review Rating System.The National Trial Lawyers Association, a "by invitation only" professional organization, lists him among the top 100 attorneys in the state of Maryland.
Smith has also earned theprestigious Client's Choice Award from AVVO, with an average client review of 5 stars (the highest rating possible), as well asa perfect10.0 Superb rating from AVVO as a trial attorney.
Aggressive Howard County, Maryland Motor Vehicle Accident Injury Lawyer
If you or someone you love has suffered any type of loss as the result of a personal injury, we can help. Contact attorney Jonathan Scott Smith by e-mail or call our offices at (410) 441-5054 to schedule an appointment. Your first consultation is free. We represent injured people in Howard County, Baltimore County, Carroll County, Frederick County, Prince Georges County and Montgomery County in Maryland.