Maryland Hospital Negligence and Howard County Medical Facility Neglect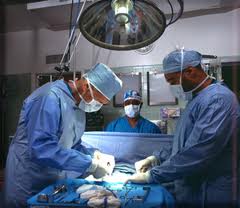 Hospitals are not human; however, they can still be liable for the negligence of their employees. There are many different causes of hospital negligence or hospital malpractice, for which hospitals and medical facilities typically carry high amounts of medical malpractice insurance. While no amount of money can fully compensate you for any loss or serious injury, obtaining the compensation you deserve can help you and your family offset the high medical expenses and other expenses associated with your loss or injury.
Most hospital employees and medical staff have above average education and are excellent caregivers. However, as human beings, like you and I, they do make mistakes. If their mistakes cause injury or exacerbate an existing injury, you may be entitled to fair and just compensation.
Everyone knows doctors can commit medical malpractice; however, they are not the only ones who can negligently injury you or cause the death of a loved one.
Common Hospital Employee Negligence
Doctors, surgeons and other physicians – Medical doctors, surgeons and other medical specialists, and other physicians can cause injury or death through their negligence, including the failure to diagnose or misdiagnosis of a serious medical condition, failure to timely treat a serious medical condition, operating on the wrong body part or botching a surgery, and mistakes during child birth are just a few examples of doctors and surgeons committing medical malpractice that can have dire consequences.
Surgical assistants and nurses – Nurses and surgical assistants can also be negligent in administering your care, dispensing medication and in monitoring your medical condition. Negligence in any of these areas could cause injury, worsen an existing injury, or cause death.
Orderlies and nurse's assistants – Orderlies and nursing assistants can also cause injury or death through their negligence, including mistakes when moving or transporting you to another room or facility, failing to properly feed you (including giving you food to which you are allergic), and failing to properly change your clothes or linens, all of which can lead to sores or infections.
If you, or a family member, were injured due to a hospital staff or doctor's negligence, you should seek counsel from an experienced personal injury attorney and medical malpractice lawyer to ensure you, and your family, receive the compensation you deserve.
Contact Our Office
To schedule an appointment, contact us online or call us now at (410) 441-5054. Let us use our skill, experience, knowledge and resources to help you get full and fair compensation for your serious injuries caused by medical malpractice or hospital negligence. Attorney Jonathan Scott Smith represents clients in wrongful death cases and personal injury cases involving medical malpractice, including hospital negligence.
We also handle bodily injuries due to auto accidents, truck wrecks, drunk driving wrecks and motorcycle wrecks on the Baltimore Beltway, Washington Beltway, MD 295, Baltimore Washington Parkway, B-W Parkway, I-695, I-495, Interstate 95 in Maryland, I-70, Maryland Route 32, U.S. Route 29, Baltimore National Pike, Route 40, I-83 and serious injury accidents throughout Maryland.
Ellicott City Medical Malpractice Attorney
Lawyer Smith also provides experienced legal representation for clients in Baltimore, Columbia, MD, Clarksville, Sykesville, Fulton, Elkridge, Frederick, Mt. Airy, Ellicott City, Laurel, Westminster, Baltimore County, Anne Arundel County, Carroll County, Prince Georges (Prince George) County, Howard County and Montgomery County, MD.