Can You Sue Someone Other Than the At-Fault Driver?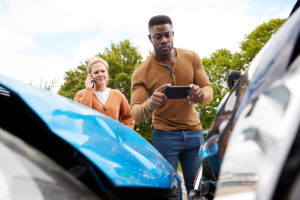 When another driver acts carelessly or negligently and causes a motor vehicle accident, you have the right to bring legal action against that person to recover compensation for your losses. But motor vehicle accidents often have multiple causes. In many situations, you can seek damages from third parties, in addition to suing the person who was driving the other car. How does that work?
To recover damages under a legal theory of negligence, you must show that a person failed to act reasonably; that the failure to do so caused an accident; and that you suffered actual losses as a result. Here are a few examples of potential third-party liability for a motor vehicle accident:
A bar, restaurant, or private party host serves alcohol to someone who is visibly drunk—Ifthat person causes a car wreck while intoxicated, the person and/or business serving the alcohol may be liable.
The owner of a vehicle allows another person to drive their car, knowing that that person is inexperienced or has a history of reckless driving—The vehicle owner may have liability in the event of an accident.
An employer requires an employee to drive while on the job—The employer may be liable if that employee causes a car accident.
A city fails to properly maintain roads—The city may be liable if poor road conditions contribute to an accident.
A car or car-part manufacturer fails to take reasonable steps to ensure the safety of a vehicle or part, such as brakes or tires—The manufacturer may have a legal responsibility when a defective product contributes to an accident.
Experienced Prince George's County Personal Injury Attorney
Maryland SuperLawyer Jonathan Scott Smith has fought aggressively for personal injury victims in Baltimore and throughout the state for more than 30 years. A skilled and experienced trial attorney known for his consistent record of obtaining positive results for clients, Scott Smith received the Client's Choice Award from AVVO, with an average client review of 5 stars (the highest rating possible) and has a perfect 10.0 "Superb" rating from AVVO as a litigator. He's AV-rated by his colleagues in the legal profession under Martindale-Hubbell's Peer Review Rating System and has been named a Top-Rated Lawyer by The American Lawyer magazine.
Effective Ellicott City Wrongful Death Lawyer
If you have been injured in a motor vehicle accident, we can help. Contact our office by e-mail or call us at (410) 441-5054 to schedule an appointment. There's no cost for your first consultation. We represent injured people in Howard County, Baltimore County, Carroll County, Frederick County, Prince George's County, and Montgomery County in Maryland.